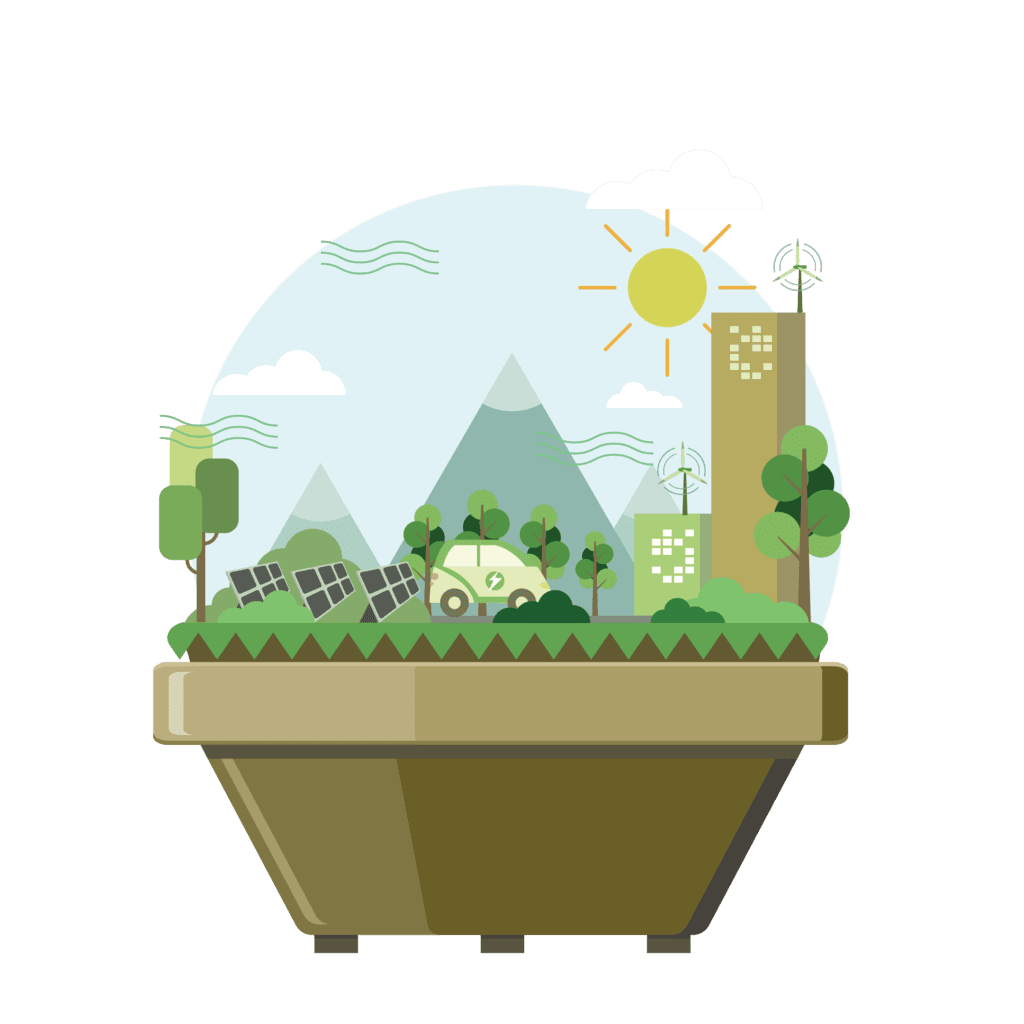 Sustainable Energy jobs with an associate degree include entry-level roles in wind, hydroelectric, solar, and geothermal energy sources.
The future of sustainable energy does not only mean the development of these energy sources. It also focuses on assessing current energy needs and inefficiencies. A big part of this involves looking at energy infrastructure and points of use like houses and offices. We need to change how we manufacture energy, and we need to change how we use it.
What Degree Do You Need To Work With Renewable Energy?
An Associate Degree in Sustainable Energy is an excellent choice for environmentally conscious individuals interested in green energy and energy management. Sustainable energy comes from wind, hydroelectric, solar, and geothermal energy sources. These are jobs where you can earn a comfortable income and feel good about helping to combat climate change!
---
---
How Much Can You Make With An Associate's Degree in Sustainable Energy?
Sustainable energy is a buzz right now as the US and the world battle climate change and global warming. It is a great time to start a career in Sustainable Energy since initiatives are released worldwide daily. For example, the President's 2021 Recovery Plan focuses on clean energy jobs and infrastructure. It sets aside money to make existing structures more efficient and build a million energy-efficient affordable housing units. The plan also includes updating power grids and adding electric car charging stations that run on renewable energy.
Graduates with an associate degree in Sustainable Energy will find they qualify for many careers in the Sustainability Energy sector. Employment opportunities in renewable and sustainable energy and the building industry are growing every day. Not only are these jobs available, but they pay well because they are in demand.
---
What Are The Best Jobs With Sustainable Energy Associates Degrees?
First, it is essential to keep in mind that this career field is growing and evolving rapidly. What jobs are there in sustainable energy? Unfortunately, only a few of the jobs have information in detail on the Bureau of Labor Statistics.
However, you can search job websites (Payscale, Glass Door, Zippa, and Salary com) in your area and find more details that the government will eventually categorize and report. Here are a few jobs you can get with a sustainability energy associate degree and the estimated salary range.
Energy Analyst
Annual Salary: $49k – $86k (estimate PayScale)
Job Description: an Energy Analyst gathers and analyzes energy data to understand energy markets better. These data experts often work in positions at engineering firms or other places that specialize in building efficiency.
They develop energy models for buildings and recommend improvements based on their findings. Some assist contractors with technical support for all aspects of the work, including installations. Additionally, they also conduct various tests on the buildings for which they are responsible, including blower door tests.
Energy Auditor
Annual Salary: $46k – $57k (estimate Salary dot com)
Job Description: Most energy auditors inspect building energy and related systems to determine energy consumption. They compose audit reports of their analysis and offer energy efficiency recommendations.
Energy Program Coordinator
Annual Salary: $47,113 (estimate from GlassDoor)
Job Description: A coordinator will develop and manage a sustainability program and roadmap. Other duties include promoting Energy-efficient innovative technologies, encouraging environmentally solid practices and stewardship, and evaluating and assisting in implementing low-impact service delivery methods.
The position is responsible for leading and coordinating the planning, development, implementation, and evaluation of a comprehensive organizational sustainability program. In addition, they conduct Return on Investment (ROI) analyses to assist with sustainability-related investment and policy development decision-making processes.
Energy Manager
Annual Salary: $65k – $132k (estimate PayScale)
Job Description: An energy manager oversees an organization's efforts to promote the responsible use of natural resources. They work to protect the environment by reducing utilities, and energy loss in their facilities and promoting recycling.
Energy Management Professional
Annual Salary:  $76,108 (estimate)
Job Description: Energy management professionals improve energy efficiency in commercial and residential spaces. First, they measure and report energy use in building systems. Then, they evaluate and recommend energy solutions for greater efficiency, energy cost savings, and also lower environmental impact.
Facilities Manager
Annual Salary: $46k – $102k (estimate PayScale)
Job Description: Most facilities managers oversee the physical building maintenance and repairs. They are responsible for custodial functions, security, and also emergency preparedness. Additionally, many are responsible for the financial resources that manage the building.
Geological and Hydrologic Technicians
Annual Salary: $58,080 (BLS Median)
BLS Projected Job Growth: 4% percent from 2021 to 2031
Job Description: These technicians explore, extract, and monitor specific natural resources.
Renewable Energy Consultant
Annual Salary: $90,950 per year (estimate from Zippa)
Job Description: Most Renewable Energy Consultants provide advice to public and private organizations. Many have previous work experience as sales representatives, marketing experts, and also environmental specialists.
Renewable Energy Specialist
Annual Salary: $63,317 (estimate GlassDoor)
Job Description: These specialists study emerging energy technologies. They evaluate the environmental impact of energy production and then transfer their understanding to practical business strategies.
Solar Energy Technician
Annual Salary: $47,670 (BLS Median )
BLS Projected Job Growth: 27% percent from 2021 to 2031
Job Description: These technicians are also called Solar Photovoltaic (PV) Installers. Workers install and maintain solar energy systems that convert sunlight into energy. Most solar panel installations work outdoors on residential and commercial rooftops.
Wind Energy Technician
Annual Salary: $56,260 (BLS Median )
BLS Projected Job Growth: 44% percent from 2021 to 2031
Job Description: These technicians are also called Windteks or Wind Turbine Service Technicians. They maintain and repair wind turbines. In addition, some windteks install wind turbines. Wind turbine service technicians generally work at heights up to 300 feet outdoors, and in confined spaces. On-the-job training and technical school classes are the main ways a wind turbine service technician learns the job.
---
Is Sustainable Energy a Good Career?
Jobs in sustainable energy save people and businesses money and are unlikely to be outsourced. You may care about the environment, want a good-paying job, or both. Whatever your motivation, an associate degree in Sustainable Energy will give you the knowledge and skills to get a job in this field.
---
Related: