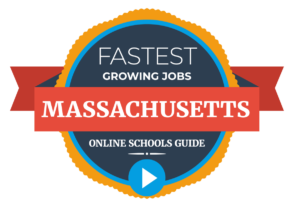 The fastest growing jobs in Massachusetts are at all levels of education and include technical, clerical, service, and professional jobs.
From the mountain towns of the western edge to the bustle of Boston, Massachusetts is New England's most populous state. The history of The Bay State is plastered all over every textbook outlining America's story, for better or for worse. Think Plymouth Rock, the Salem Witch trials, or even the presidential vacation spots on Martha's Vineyard.
Massachusetts has an economy that continues to boom. High-level research is constantly emerging from institutions like the Massachusetts Institute of Technology (MIT). MA has always been an epicenter for technology, healthcare, and retail, and it appears that this will not change anytime soon.
Between the Five College Consortium in Western Mass and 35 post-secondary schools situated in Boston alone, higher education is also a sustainer of the state's economy. Below you will find a list of some of the fastest-growing jobs in Massachusetts and some whose demand has remained consistent.
---
1. Medical Transcriptionist
In a state that features so much industry in the medical arts, the call for more medical transcriptionists is no surprise. Generally, those who are in this line of work have a bachelor's degree in a field related to physiology or anatomy and a talent for technical writing and grammar. They can earn as much as $80,000 to listen to and transcribe recordings made by healthcare professionals and transfer them into appropriate documents.
2. Dietetic Technician
Think about all the hospitals and healthcare facilities in the state, and then the universities and boarding schools. There are a lot of meals to be prepared, many of which need to be therapeutic grade and well researched to accommodate a variety of conditions and food restrictions.
Dietetic Technicians work with nutritionists and dietitians to research, source and prepare food for patients, students, and even sometimes inmates. Problem-solving is an important part of the position as is an awareness of a variety of illnesses and conditions. A bachelor's degree related to health, science, and nutrition is often the ticket to this job.
3. IT Manager
This is a position that will keep you on your toes and truly earn that six-figure salary in the old colony state. In Boston, growing technical careers are always part of the landscape. Many parts of the state demand tech support, but the city of Boston has a particular saturation of techies, including IT Managers. Software is changing at such a rapid rate, both in the academic and business sectors.
IT managers are an asset to most industries in order for companies to keep up with the times. This job requires you to be at the cutting edge of software and hardware, with the ability to find and build the programming necessary to meet a client's needs. Most people in this field have a bachelor's degree in Computer Sciences.
4. Wholesale and Manufacturing Salespeople
This is one of the highest-paying sales jobs in Boston and can bring in a six-figure salary. Most people in this field have a bachelor's degree in a major like business or even communications, however, it is not mandatory. This is a climb-the-ladder-type-of-field that requires actual work experience to move up.
The labor bureau suggests that this career path specifically is expected to grow in the sectors of technical and scientific services. You may be responsible for selling medical equipment or wholesale clothing. Either way, the job requires excellent communication skills and a can-do attitude.
5. Radiologic Technician
As a medical hub, many people who don't even live in the state of Massachusetts flock there for rare medical treatments and to participate in medical research. Radiologic Technicians, therefore, are in high demand. This position requires some advanced technical abilities including operating state-of-the-art equipment. Their primary task is taking diagnostic images for a variety of patients with a plethora of needs.
Another important aspect of the job is preparing patients and their rooms for procedures and imaging. Decision-making and collaboration are critical skills in this field as is the ability to spend long hours on your feet.
6. Ophthalmic Technician
Massachusetts is home to many eye surgery centers and ophthalmologists, some being quite specialized. The demand for ophthalmic technicians speaks for itself, as all said clinics, hospitals, and the like require the support of those qualified in this position. They work directly with patients, often collecting health data, which can include weight and blood pressure.
They also conduct basic tests on patients like ocular motility. Note-taking and documentation are also daily tasks. A bachelor's degree in the medical or technical fields is generally held by people in this position, but a variety of certificates are often accepted instead.
7. Sterile Processing Technician
Clearly, many jobs in demand in Boston MA tend to be related to medicine, and this one is no exception. Thousands of medical instruments are used each day, especially in such a medical hub. Each of these tools must be sterilized according to standard protocol, and someone has to do it.
This position not only cleans the instruments but organizes them according to instructions that are always subject to change. Generally, a two-year degree will suffice for this role, and the potential is there to make upwards of $60,000.
8. Medical Director
Medical Director positions are not quite like you see them on Grey's Anatomy, because there are often a lot more people in such roles at each medical institution. A key focus of the job is communication and problem-solving. These are the people everyone goes to when there is conflict, a conflict of interest, or a complex issue needing resolution.
This position may oversee an entire institution, or merely a critical department. This leadership role is often responsible for training subordinates and implementing procedures necessary for the successful operation of the site. It is not uncommon for people in such positions to have a master's degree in fields such as public health, however, a bachelor's alone is possible.
9. Education
Education is a huge industry in Massachusetts, and it seems that teachers are not struggling to find a job. The state offers some of the highest-ranking public schools in the country. There are also an unbelievable amount of colleges and universities that are always hiring faculty, administrators, provosts, and the like.
Teaching and Education Degrees
So, if academia is your jam, you're bound to find your niche in this state. There are also many private schools serving kindergarten through secondary education, so if you're looking to work with younger students in a more controlled environment, that too could bring you to Massachusetts.
10. Legal Secretary
Law is a booming industry in the state of Massachusetts, which means there is a great need for legal secretaries. Generally, those who are hired in such positions have taken classes at a technical school or completed a two-year degree. Some of this coursework can even be completed in high school.
Clerical skills are imperative to the success of a law office, and this is the job that embodies such tasks. Legal secretaries answer phones, set up meetings, edit documents, manage calendars, order supplies, and often cater, along with many other daily responsibilities that keep the office afloat.
11. Architect
As industry changes, so do building demands and the subsequent need for architects. Massachusetts is a state with no exceptions to this rule. In fact, Boston, in particular, is a city that is undergoing quite a bit of construction and renovation. Because the city is so old, many of the structures require architects to update and preserve what is already there, along with the constantly evolving landscape of new construction, including the nationwide condo trend.
Architects are responsible for translating client needs to blueprints that structurally make sense. They also are charged with managing contracts and often doing their own marketing pitches for companies and organizations. Most architects go through a 5-year bachelor's degree program specific to the profession.
12. Photographer
Photographers are in demand in Massachusetts, as the growing population brings a need for more digital art. Photographers are used in many industries including marketing, real estate, and a variety of corporate settings. Social media is such an important part of the industry these days, often making photographers more and more necessary.
This is a creative job that can be done with varying degrees of education. There are MFA holding photographers and those with a natural eye who have maybe taken a class or two outside of high school. This is definitely not the highest-paying job on the list, but it is one of the most creative.
13. Tax Preparer
Tax preparers can work with individuals, companies, or institutions. A background in accounting or economics is helpful, and generally, those that enter the field can be successful with a bachelor's degree. There is a lot of wealth in parts of Massachusetts, making specialized tax preparers even more critical.
Taxes continue to be complicated, and the more working people there are, the more tax preparers are in demand. This position requires a trustworthy personality, as you are responsible for holding the private financial information of clients.
14. Management Consultant
All organizations aim to run with a higher level of efficiency. That is the sole purpose of this position, to help companies do so. Their job is to collect data by interviewing a company's employees and leadership staff and looking at the documentation to decipher how to strategically improve operations.
A bachelor's degree in business is usually par-for-this-course, though an MBA does not hurt. This position makes just over six figures and for a data-loving-people-person, it could be a dream fit.
15. Taxi Driver
This may come as a surprise, but Taxi Drivers make this list. There has been a 114% growth rate in the past year in this state, and it is projected that there will be a need for over 11,000 drivers by 2024.
Many people no longer want to drive, and sometimes calling a cab brings ease and requires less planning in terms of parking and being on time. Especially in the larger cities, this industry continues to boom. Who knows, maybe the future of Massachusetts will involve fewer cars in general, as the number of taxi drivers and public transit opportunities grows. 
---
Finding the Fastest Growing Jobs in Massachusetts
Yes, you can find good-paying jobs in Massachusetts without a degree, though it is clear that the more education you have, the more money you can probably make in many of these industries listed above. The codfish state is known for education, so it doesn't hurt to keep up with the demand by educating yourself and going after one of these fulfilling and profitable careers in demand.
---
Related: