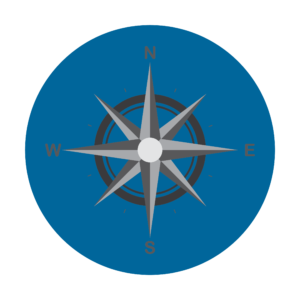 The best GIS associate degree jobs train individuals to work in Geographic Information Systems, a specialized technological field. A Geographic Information System, more commonly known as GIS, refers to a computer system. This system creates multi-layered, derivative maps that provide insightful analysis of many world issues.
What is GIS?
The first GIS was created in the early 1960s. Geographic Information Systems are loosely related to cartography, engineering, landscape architecture, surveying, and photogrammetry. However, GIS technology has evolved at breakneck speed over recent decades. And there are new uses for the technology constantly emerging.
The operative word in GIS technology is Geographic, which refers to how some part of the applied data is spatial (aka, tabular) – relating to defined points on Earth. GIS's powerful application integrates additional information, known as attribute data, regarding spatial data.
---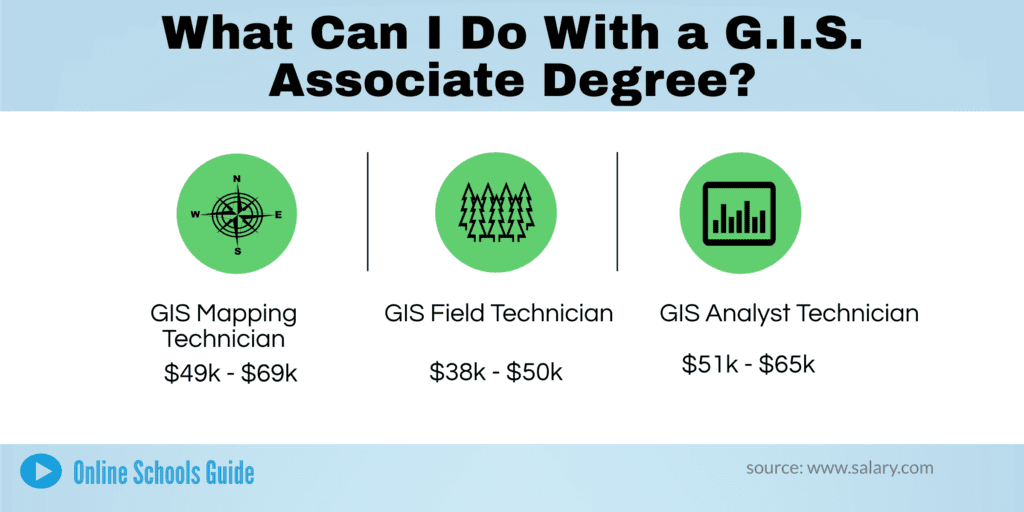 ---
What Types of Jobs do People Do with a GIS Associate Degree?
GIS technology has a wide-ranging application. As a result, GIS professionals have diverse career options across many sectors. Their job titles vary but may include GIS Field Technical Consultant, GIS Technologist, GIS Director, GIS Specialist, GIS Software Engineer, GIS Operator, GIS Business Analyst, and Environmental GIS Analyst.
---
GIS Mapping Technician
Technicians use GIS programs to make complex custom maps of the Earth by compiling and integrating field data.
Salary Range: $49,000 to $69,000
GIS Field Technician
Technicians visit sites to take land measurements and collect data for maps.
Salary Range: $38,000 to $50,000
GIS Analyst Technician
GIS Analyst Technician uses mapping software to analyze spatial data and design digital maps.
Salary Range: $51,000 to $65,000
---
What Industries Employ Individuals With a GIS Associate Degree?
GIS professionals work across sectors. Those who have earned a GIS associate degree will find a rewarding career in one of the paths below.
| Sector or Industry | How they use GIS |
| --- | --- |
| Urban Planning Companies | helps maintain transparency in the planning processes. |
| Government Agencies | GIS helps in policymaking that uses analyzed data. |
| Economic Development Organizations | analyze a location's social, topographical, and economic aspects. |
| Education Sector | GIS helps plan future education needs in communities. |
| Electoral Analysis | GIS data can help discern the areas of poor voter enrollment. |
| Public Works Projects | GIS applications can anticipate future needs based on metrics and data. |
| Environmental Agencies | GIS can Identifying Wetlands in Need of Protection from Pollution. |
| Public Health and Epidemiological Work | GIS data can predict local and regional markets. |
| Surveying | GIS helps ensure expanding populations have their needs met. |
| Emergency Management | used in emergency response and disaster planning. |
| Law Enforcement | allocates resources to the areas needing services. |
| Strategic Business Planning | GIS has unlimited potential for use in business planning and modeling. |
How sectors use GIS for real-world applications.
---
How Much Can You Make With A GIS Associate Degree?
According to Payscale.com, the average annual salary for working professionals with a GIS associate degree (AAS) is $60,000, which translates to $23.50 per hour. 
ZipRecruiter.com notes a similar national average ($49,685) for those with a GIS associate Degree, with top earners topping the six-figure salary! In addition, ZipRecruiter notes these are the top job markets for GIS associate degree holders. 
San Mateo, California – average yearly salary of $59,053.
Boston, Massachusetts – yearly average wage of $58,118.
Santa Monica, California – yearly average wage of $57,362.
Renton, Washington – yearly average wage of $57,175.
Berkeley, California – – yearly average wage of $56,929.
Daly City, California – yearly average wage of $56,769.
Lowell, Massachusetts – yearly average wage of $56,268.
Richmond, California – yearly average wage of $55,536.
Newark, New Jersey – yearly average wage of $55,390.
Springfield, MA – yearly average wage of $55,017.
Similarly, statisticians at the BLS note that mapping and surveying technicians have a median annual salary of $46,910.
To provide some context, consider that just a couple of additional semesters of education to earn a bachelor's degree in GIS offers a salary increase. It also adds a wider variety of job options. For example, Salary.com notes that the median salary for an analyst with a bachelor's degree in GIS fell somewhere between $55,322 through $59,286.
---
What Is The Job Outlook With a GIS Associate Degree?
As technology evolves, the use of the valuable insights generated by GIS software and its professionals will continue to grow, expanding across sectors and job types. Job outlook expectations noted by the BLS for GIS professionals include
---
Advancing Your Career in GIS
Additional education will lead you to GIS jobs with increased responsibility, higher potential income, and more comprehensive compensation packages like most professional careers. So, to qualify for the most in-demand jobs, you need a bachelor's or master's degree.
Earning a GIS associate degree is an excellent way to begin a career in this field. Once you have earned an associate degree, you can enroll in a bachelor's degree in GIS program. Many of these degrees allow you to use the credits you have already earned. With this advanced standing, most students take two more years to complete a bachelor's degree.
---
Related: