Hidden Gems are Colleges in North Carolina that offer quality education and online degree programs, and are an excellent choice! North Carolina is well known for its Colleges and Universities. Most people have heard of Duke, Carolina (aka UNC-Chapel Hill), NC State, and Wake Forest.
However, there are also many smaller colleges and universities throughout the state. These schools offer quality education, and the ones on our list also have online degree programs. These Hidden Gems of North Carolina are some of the best schools you've never heard of!
While these Hidden Gems with online degrees are all great programs, the online school that you choose should fit your specific needs. So, start with our list below and find the schools that may be a good fit for you.
---
College Foundation of North Carolina
The College Foundation of North Carolina, or CFNC, is a service offered for free from the state to promote access to North Carolina higher education. Through the CFNC website, students can get assistance with planning for their college education, paying for college, and career planning.
CFNC's Application Hub is a tool where students can organize their documents and test results and also apply to many schools through one site. It is an excellent tool, and we noted below the schools that offer an application on the CFNC Application Hub.
---
How We Ranked The Hidden Gems in North Carolina
The editors at Online Schools Guide found smaller schools and colleges in North Carolina with an excellent academic reputation that offer online degree programs. Then, based on the cost of attendance and the number of online offerings, we ranked the programs.
---
1. Gardner-Webb University
About 3,500 students attend Gardner-Webb University, located in the beautiful North Carolina town of Boiling Springs. The university's 17:1 student-to-faculty ratio provides students with the attention they need to succeed in various undergraduate, graduate, online, and degree completion programs. The school was founded as Boiling Springs High School in 1905 but transitioned to a higher education institute, Gardner-Webb College, in 1942 and later became Gardner-Webb University in 1993.
From master's degree programs to certificates and licensures, Gardner-Webb University offers a variety of online degrees, including Computer Information Systems, Nursing, Healthcare Management, Accounting, Human Services, and several more. Online classes are taught by professors from prestigious educational institutions across the nation and offer students the flexibility to complete their education.
Location: Boiling Springs, NC
Online programs: 20
CFNC One Application: YES
---
2. Montreat College
Montreat College offers a Christ-centered liberal arts education. This private college provides a variety of associate, bachelor's, and master's degree programs for both traditional and older students. The college's main campus is nestled in the North Carolina town of Montreat near Black Mountain. The 89-acre campus is in the foothills of the beautiful Blue Ridge Mountains and not far from Asheville. In addition to the main campus, the Graduate School also has an online campus and locations in Morganton, Charlotte, and Asheville.
Several different undergraduates and graduate programs are entirely online to make education easier to obtain for area students. These include an Associate of Science in either Business, Cybersecurity, or General Studies. Montreat also offers a Bachelor of Business Administration, Bachelor in Public Administration, Bachelor of Science in Accounting, and Bachelor of Science in Communication Sciences and Disorders. In addition, online graduate programs include Master of Arts in Mental Health and Wellness, Master of Arts in Organizational Leadership, Master of Public Administration, Master in Public Health, Master of Science in Counseling, Master of Science in Management and Leadership, Master of Business Administration, and more.
Location: Montreat, NC
Online programs: 23
CFNC One Application: YES
---
3. Elizabeth City State University
Elizabeth City State University started in 1891 and is a constituent institution of The University of North Carolina System. The school offers several baccalaureates, professional, and master's degrees for a diverse student body.
ECSU's mission promotes social, economic, and environmental progress for the people of North Carolina and the nation. The university has accreditation from the Southern Association of Colleges and Schools Commission on Colleges (SACSCOC) to award degrees at both the baccalaureate and master's levels. From natural and aviation sciences to health and wellness, the school offers students a wide range of programs.
Furthermore, the college offers several online degree programs for students who want and need the flexibility and convenience of online classes. These include Bachelor of Science Degrees in Business Administration, Criminal Justice, and Homeland Security. Additionally, a Bachelor of Arts degree in Interdisciplinary Studies and a Master of Education in Elementary Education are available.
Location: Elizabeth City, NC
Online programs: 6
CFNC One Application: YES
---
4. Methodist University
In 1960, Methodist College opened its doors to 88 full-time students, 40 part-time students, and 12 faculty members. The school was just four buildings: the Classroom Building, the Student Union, the Science Building, and the Boiler Plant. More construction followed the campus, located in Fayetteville, North Carolina, and included three apartment buildings.
In 1961, a temporary gymnasium was constructed. During 1963 and 1964, the school added the Yarborough Bell Tower, the Davis Memorial Library, and four larger residence halls. The college became a university in 2006 and re-organized with the addition of academic departments, including the College of Arts, Humanities, and Sciences; the College of Business, Technology, and Professional Studies; and the College of Health Sciences and Human Services.
The university offers a wide variety of online programs. Hence, students have the option to begin or advance their careers at Methodist University without visiting campus. Students receive the same quality education as they would with in-person classes and have access to dedicated faculty members and the overall friendly atmosphere of the university. There are many undergraduate degree programs offered online, including Associate of Arts in General Studies, BA in Professional Leadership and Ethics, BS or BAS in Accounting, Optional Concentration: Health Care Administration, BS or BAS in Business Administration, Optional Concentration: Health Care Administration, and many more. Graduate degree programs offered online include Master of Business Administration, Master of Health Administration, Master of Science in Nursing, and several certificate programs.
Location: Fayetteville, NC
Online programs: 23
CFNC One Application: YES
---
5. Lenoir–Rhyne University
Four Lutheran pastors formed this school in 1891. Then, it was a one-room school named Highland Academy with only twelve students. Today, Lenior-Rhyne University boasts 2,700 students and 140 full-time faculty members. LRU offers classes at three locations throughout the beautiful state of North Carolina, including Hickory, Asheville, and Columbia. The school allows young people to receive an education based on religious principles and Christian values. Furthermore, it is a liberal arts university of choice that is nationally recognized.
Lenior-Rhyne University offers 50 majors, 53 minors, and also 20 graduate programs. Subjects and concentrations include accounting, seminary studies, biology, and also American studies. Online degree programs by Lenoir-Rhyne University bring the classroom to the students so they can balance their studies with their personal and professional lives. Students can earn graduate degrees online. Programs include Dietetic Internship, Criminal Justice Leadership, Business Administration, Human Services, Exercise Science, Creative Writing, Nursing, Public Health, and also Religious Leadership.
Location: Hickory, NC
Online programs: 14
CFNC One Application: YES
---
6. Mars Hill University
Mars Hill University started as the French Broad Baptist Institute in Madison County in 1856, not long before the Civil War began. Later, the university's name was changed to Mars Hill College, inspired by the Bible passage Acts 17:22. In 1859, the college was chartered by the state of North Carolina with the help of dedicated local families who were struggling financially but wanted their children to be educated within the Baptist faith. The school then became a university that offers 34 majors and 35 minors for various concentrations and academic programs, and adult and graduate study programs.
Mars Hill University Graduate Studies are great for students who strive to become leaders in their fields and communities, and many are offered online. These programs include Master of Education, Master of Arts in Teaching, Master of Arts in Criminal Justice, and Master of Management.
Location: Mars Hill, NC
Online programs: 10
CFNC One Application: YES
---
7. Catawba College
From physicians and attorneys to social workers, musicians, and actors, graduates of Catawba College are contributing to the world in many important and meaningful ways. The college was founded in 1925 and is in Salisbury, North Carolina. Forty-one buildings on 276 acres of beautiful wooded land make up the campus. Additionally, it includes a 189-acre ecological preserve for approximately 1,300 students to enjoy each year.
Catawba College offers an array of major and minor programs entirely online. These programs include business administration, business management, registered nursing to Bachelor of Science in nursing, education: birth to kindergarten, education: residency licensure, entrepreneurship, and professional accounting.
Location: Salisbury, NC
Online programs: 12
CFNC One Application: YES
---
8. St. Andrews University
Located in the North Carolina town of Laurinburg, St. Andrews University is a private Presbyterian liberal arts college. It opened in 1958 after a merger of Presbyterian Junior College and Flora MacDonald College. The university was dubbed St. Andrews Presbyterian College from 1960 until 2011. Then, the college changed its name to St. Andrews University when it merged with Webber International University of Florida. The university offers a wide range of degree programs that include 21 majors and 21 minors.
Small class sizes are available for students heading to the campus to earn their degrees. However, it also provides an array of degree programs online. Some of those programs include bachelor's degrees in Business Administration, Elementary Education, Psychology, and Equestrian & Equine Studies. Students can also earn their master's degree entirely online in business or education.
Location: Laurinburg, NC
Online programs: 12
CFNC One Application: YES
---
9. University of Mount Olive
The private University of Mount Olive is located in the North Carolina city that bears its name. The school was chartered in 1951 and is sponsored by the Original Free Will Baptist Convention and accredited by the Southern Association of Colleges and Schools Commission on Colleges. It is a top-rated liberal arts university that is a unique educational institution and is a product of its people while embracing its history, vision, mission, and values.
The university offers over 100 majors, minors, and concentrations in some of the top career fields. Mount Olive programs cater to traditional undergraduates, adult undergraduates, and graduate students. Some of the 59 programs include exercise science, nursing, finance, marketing, and sports communication. Most of the degrees offered at Mount Olive university can be earned entirely online.
Location: Mount Olive, NC
Online programs: 7
CFNC One Application: YES
---
10. Pfeiffer University
Pfeiffer University boasts a 135-year history of servant leadership based on a solid liberal arts curriculum and the faith of the United Methodist Church. The university's curriculum prepares students to become thoughtful and well-rounded leaders within their fields and communities. Each year, more than 2,200 students attend the university, located in Misenheimer, North Carolina.
While many students head to in-person classes on the campus at Pfeiffer University, other students opt to earn their degrees through Pfeiffer Online. The online degree programs offer a more convenient and flexible way for students who work full or part-time or have families to raise to be still able to earn their degree. Some of the programs offered include practical theology, nursing, teaching, human relations, and business management and leadership.
Location: Misenheimer, NC
Online programs: 10
CFNC One Application: YES
---
11. William Peace University
Founded as the Peace Institute in 1857, William Peace University was once an all-female two-year college but has evolved into a four-year university for both female and male students.
The university offers more than 24 majors, minors, and concentrations, and its mission is to prepare students for careers in the organizations of tomorrow. The university's roots are in the liberal arts tradition with the hope that students develop an appreciation for lifelong learning and develop a focus on meaningful careers. The Regionally-Ranked and award-winning William Peace University is in the downtown area of Raleigh, North Carolina.
The university offers several bachelor's degree programs entirely online for working professionals and students with families. Some of those programs include strategic communication, marketing, nursing, psychology, more, and also several licensure programs.
Location: Raleigh, NC
Online programs: 9
CFNC One Application: YES
---
12. Lees-McRae College
While Lees-McRae College began in 1900 as a school for women, the college has gone through many changes since then. Reverend Edgar Tufts, a Presbyterian minister saw the school burn down in 1907. However, Tufts raised money through donations to rebuild. The school reopened under the name The Elizabeth McRae Institute after receiving a charter from the state of North Carolina. The all-girls school was named after a teacher, Elizabeth McRae, who was known in the area for her dedication to education and Christian service. When he added a boy's department again, the school was renamed the Lees-McRae Institute, with the name Lees coming from Susanna P. Lees, a generous donor to the school.
The school became Lees-McRae College in 1931. It is nestled in the city of Banner Elk in the great state of North Carolina. The college offers 26 majors and 21 minors in biology, criminal justice, business, sports management, and English programs. In addition, students can attend in-person classes, hybrids, or opt for online bachelor's degrees in elementary education, criminal justice, human services, or RN to Bachelor of Nursing. A Master's of Science in Teaching is also offered through Lees-McRae Online.
Location: Banner Elk, NC
Online programs: 6
CFNC One Application: YES
---
13. Greensboro College
Founded in 1838 by Reverend Peter Doub, Greensboro College takes its name from the beautiful North Carolina city in which it is located. The school has an affiliation with the United Methodist Church. Furthermore, this private college enrolls approximately 1,000 students from more than 30 states, the District of Columbia, and at least 29 other countries.
One of the many goals of the staff at Greensboro college is to make the task of juggling everyday life with earning a college degree as easy as possible. Therefore, the college offers online degree completion programs taught by high-quality faculty members within a holistic environment where everyone is on a first-name basis. The online degree programs assist students who already have an associate's degree or have almost completed one. These students can continue their education to receive degrees in several fields. These programs include a Bachelor of Arts in Criminal Justice, a Bachelor of Arts or a Bachelor of Science degree in general psychology, and a Bachelor of Business Administration in Organizational Leadership and Management. Additionally, students can take one course at a time or three or four classes each quarter for a full-time curriculum.
Location: Greensboro, NC
Online programs: 3
CFNC One Application: YES
---
14. Belmont Abbey College
Belmont Abbey College in the North Carolina town of Belmont offers over 25 campus majors. In addition, the college provides industry internships and research opportunities for students in the liberal arts and sciences. Moreover, the school's online platform, Abbey Online, offers several degree programs. Online majors include Accounting, Business Management, and also Interdisciplinary Studies. Additionally, students can choose an online minor in Human Services, Health Care Management, or Marketing,
In addition to its excellent educational programs, Belmont Abbey is also affordable. The college offers the same tuition rate for all students regardless of residency. And, over ninety percent (90%) of the college's students receive financial aid. Belmont Abbey is rooted in Catholic intellectual tradition and Benedictine hallmarks. This Catholic College of the South is a unique Hidden Gem.
Location: Belmont, NC
Online programs: 3
CFNC One Application: YES
---
15. Barton College
Barton College is nestled in the quaint city of Wilson, North Carolina. This four-year, private, liberal arts college first opened in 1902. The college takes pride in having a strong academic focus and also plenty of opportunities to develop leadership. Barton also boasts smaller class sizes and offers a wide range of professional and liberal arts programs. These include various baccalaureate and graduate degrees. Specifically, Barton has master's degrees in nursing, kinesiology, criminology, and criminal justice. In addition, the college is proud to celebrate innovation and bold thinking among both students and staff.
Barton College offers several online graduate, professional, and licensure and continuing studies programs, such as master's programs in Business Administration in Strategic Leadership, Criminology and Criminal Justice, School Administration, Kinesiology, and Nursing. Professional studies programs include social work, nursing, and also education.
Location: Wilson, NC
Online programs: 3
CFNC One Application: YES
---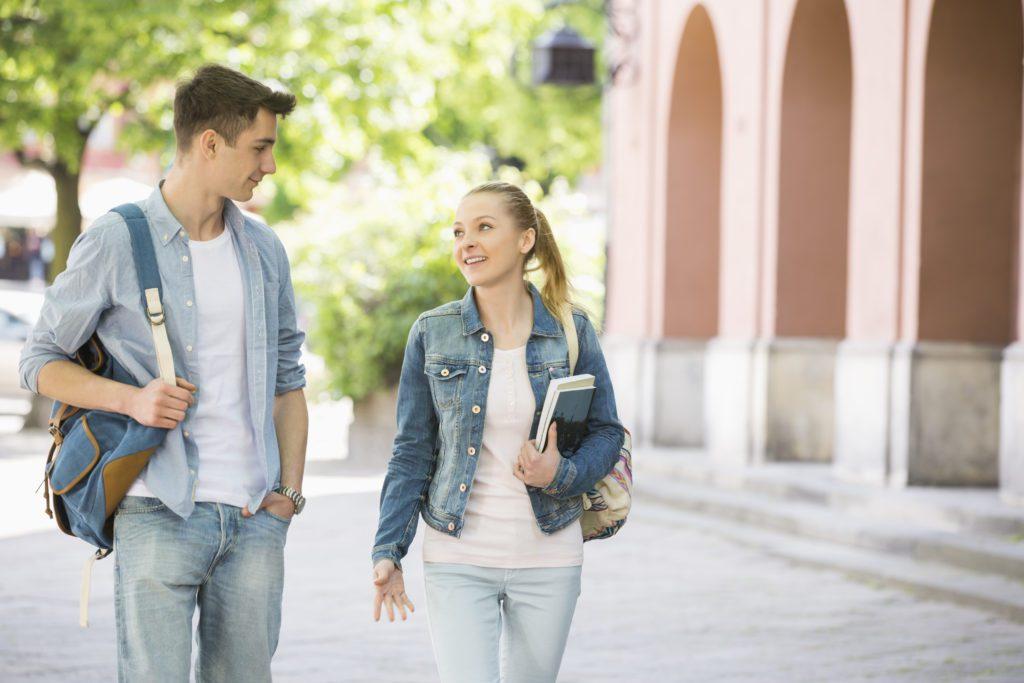 ---
What is a Small College?
A small college is generally characterized by enrolling less than 5,000 students annually. Furthermore, many small colleges in North Carolina are private and have affiliations with religious groups. And, these schools have a close-knit student and alumni community.
---
What are the Benefits of Attending a Hidden Gems Small College?
One hallmark of small colleges is reduced class size. As a result, the courses are more often taught by faculty and also professors. Whereas, large universities frequently use teaching assistants, or TAs, to teach classes.
Because of their size, these schools overall have less bureaucracy. So, students can access resources like financial aid more efficiently. And generally, the education is more personalized. As a result, these schools often have higher graduation rates and more active alumni.
---
Why Do People go to Small Colleges in North Carolina?
Because of their size, large universities can be intimidating and also alienating. It's easy to get lost in the crowd and feel disconnected. However, at most small colleges in North Carolina the students feel like part of a community.
---
Are Small Colleges in North Carolina More Expensive?
Private colleges in North Carolina are almost always more expensive than state-supported schools. However, the main reason for the increased cost is public colleges and universities receive money from the government to subsidize tuition. Since private colleges don't have access to this money, they have to charge more for education.
However, many private schools have additional money they offer in financial aid that considerably reduces the tuition cost. This money comes from other sources like a school's endowment, alumni gifts, and also research. Therefore, the final price of each private school for each student will be different. So, the only way to know how much a school may contribute is to go through applying.
---
Are Smaller Colleges in North Carolina Better?
First, the best college for anyone is the one that meets their specific needs. So, small colleges in North Carolina are better for some individuals, and big schools are better for others. But, if you are a learner that needs more individualized attention and thrives in a smaller environment, a small Hidden Gem in North Carolina may be just the place for you!
---
Related: