Today, graduates in Information Technology programs have a wide array of career choices. Since the demands of I.T. infrastructures and applications are growing and evolving, most I.T. graduates do not have much difficulty finding work. From a post-secondary degree like an online bachelor's degree in Information Technology to a graduate degree like a Master's in Cybersecurity, I.T. offers a world of many careers with an average starting salary that is over $75,000.
The following are some career paths that you may consider if you get an online I.T. degree. Like many online programs, not only are graduates of online I.T. degree programs in high demand, students in these online programs are also eligible for many of the same loan programs as seated programs. What's more, there are often online school-specific scholarships that students can look into, and essentially create a cheap online information technology degree.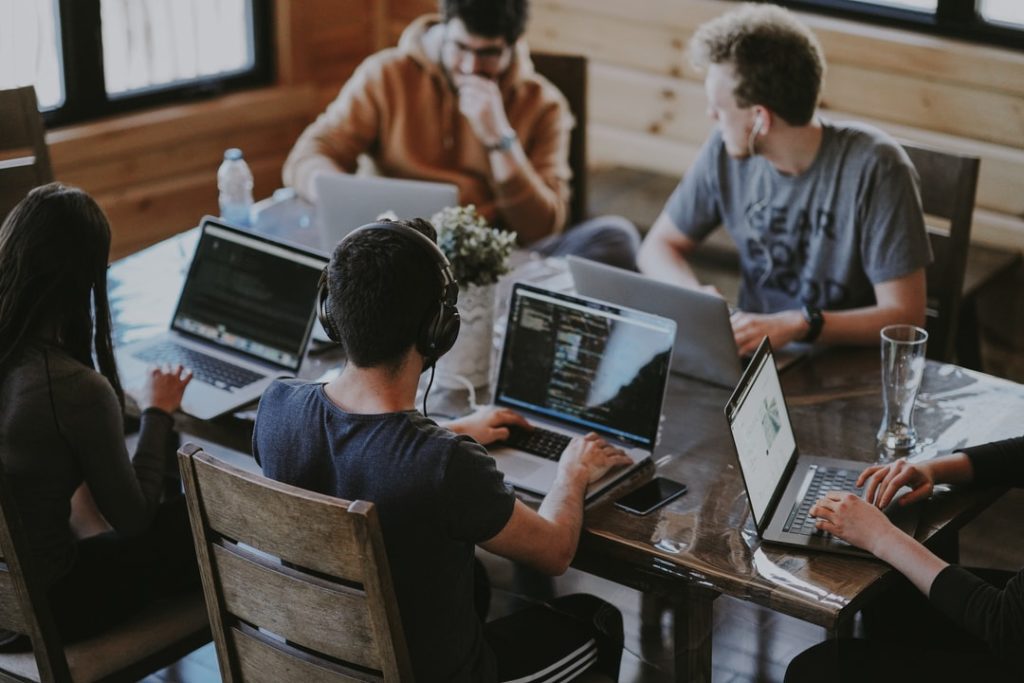 1. Computer Network Architect
If you can handle multiple tasks at once and envision the details of complex projects, this may be a good job for you. The average salary is about $109,000 per year. However, most companies require candidates to have several years of relevant experience in dealing with information systems. The minimum requirement for education is a bachelor's degree.
Computer network architects design and implement information and communication networks for companies. Since they must understand and incorporate the complex needs of each business and its operations in their designs, it also helps to have a business background or take business classes. Growth for this field is predicted to be about 5% between 2018 and 2028.
2. Information Security Analyst
An information security analyst's responsibilities include investigating security breaches, identifying threats to security, performing security audits, and maintaining system features. This may include firewalls or large security infrastructures. Responsibilities often vary depending on a company's size and needs. While smaller companies may hire analysts as needed, larger corporations tend to keep them on staff. If you prefer to work alone, you may work as an information security consultant.
This is one of the fastest-growing career categories in the I.T. field. According to the Bureau of Labor Statistics, growth is expected to be 32% between 2018 and 2028. The average annual salary in 2018 was more than $98,000. Although there may be some positions at the entry-level, many positions that were reported required at least five years of relevant experience. A bachelor's degree is the minimum requirement. If you understand security applications and are good at solving problems, this is a favorable career path.
3. Computer Systems Analyst
A computer systems analyst usually works for a large company or is hired by a company to analyze computer systems. The analyst studies the current systems and company procedures to identify any weaknesses or areas of inefficiency. With expert knowledge of operations, an analyst can provide actionable suggestions that encompass both IT needs and business needs. If you have a business background to combine with your I.T. training, that will make you an asset as a consultant or as an employee.
According to 2018 reports from the BLS, the average salary for computer systems analysts in 2018 was more than $88,000. Between 2018 and 2028, growth is expected to be about 9%. In the BLS report, this was a field that had a lot of jobs at the entry-level. The minimum requirement for most jobs is a bachelor's degree.
4. Software Developer
Although some software developers are hired by companies to work on staff, many people choose to work on their own as consultants or develop their own software to supplement a startup idea. If you are an entrepreneur or are highly independent, this may be a good career choice for you. Software developers research, create and manage programs. They may evaluate and test existing programs, and they have the ability to identify areas that need improvement in programs.
In 2018, the BLS reported an average annual salary of more than $105,000 for professionals in this field. Job growth for the decade of 2018 to 2028 is expected to reach 21%. Most jobs require a minimum of a bachelor's degree. If you have special training in a niche market, that may boost your value to potential employers in that niche or in a related area.
5. Database Administrator
Database administrators are responsible for maintaining databases and ensuring that their servers perform properly. They may also develop or improve processes that relate to database security. Additionally, they may install, upgrade or analyze database platforms and applications. The BLS reported an average yearly income of just over $90,000 in 2018.
Many positions do not require previous experience in the field, and a bachelor's degree is the minimum educational requirement for most jobs. Between 2018 and 2028, the BLS predicts job growth to be about 9%. If you are organized and have good problem-solving abilities, this may be a rewarding career choice for you.
6. Systems Administrator
A systems administrator may handle a wide array of I.T. needs for a company as an employee. Most systems administrators who are on staff install, monitor and upgrade hardware and software on company computers. They maintain security tools, solve the I.T. issues of employees, manage operating systems and more.
As consultants, they may install or upgrade various systems and components and perform other tasks as needed. The average salary in 2018 was a little over $82,000. Average growth of 5% is predicted between 2018 and 2028. A bachelor's degree is required for most positions, and many jobs are at the entry-level. If you are patient and enjoy solving problems, this may be a good job for you.
7. Computer and Research Information Scientist
If you are creative and want to earn a graduate degree, this may be a job opportunity for you. Most positions require at least a master's degree. Computer and research information scientists develop new and innovative solutions for computing technology or find ways to improve existing technologies. In 2018, the BLS reported an average annual salary of more than $118,000. Growth for the period between 2018 and 2028 is predicted to be 16%.
There are other career paths to consider as well, such as computer science as a programmer or web developer. If you enjoy information technology and have problem-solving skills, learn more about how an online I.T. degree can help you achieve your job satisfaction and income goals in the future.
If you are in a position of wondering if you should take a few information technology online courses, or if you know that this is the career path for you, you have many options. Arguably, an online computer science degree or information technology degree has an even greater impact on the direct application of the coursework, meaning there is a