To find out if online school is right for you, consider the pros and cons and maybe also try it out by taking an online class! As technology advances, more and more students are weighing the advantages of attending an online school.
According to the National Center for Education Statistics, approximately 5.2 million students at the college level are presently enrolled in at least one online class. This type of educational opportunity is convenient, but it may not be right for everyone. Before pursuing virtual learning, here are a few things to consider.
Do You Require Flexibility?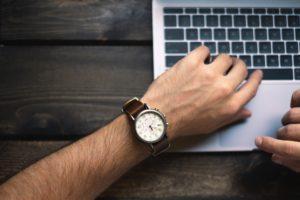 Many college students have jobs or other responsibilities that prevent them from adhering to a traditional college schedule. Other individuals may be already in the workforce and be heading back to school at an older age.
Instead of spending time in a classroom at a set time, virtual learning is much more flexible. As long as you have access to the Internet, you can learn anywhere and at any time. There is no commute time to a college campus, and you can work at your own pace. There are a variety of classes available as well.
What Program Is For You?
Before you decide to attend an online school, you must have an idea of the field that interests you. Not all programs are available remotely. Some of the areas that work well in online formats are Business, English, Psychology, Computer Science and others.
It is important to research the list of online colleges that meet your needs. Some of the most popular online course topics include business, healthcare, education, and communications.
What is Your Motivation Level?
If you are usually a self-starter and work well on your own, online classes will not be a problem. Most courses have professors who won't be looking over your shoulder to make sure that you complete your assignments. If you intend to pursue online learning, you should be able to adequately manage your time, plan ahead, and maintain the discipline to study or work without guidance.
Although professors are available to answer your questions and to provide help over the computer, you are likely to be subject to their timelines. If you find that you require more structure, a traditional college setting may be a smarter choice.
Do You Prefer Personal Interactions?
Some students thrive with face-to-face interactions with their professors and classmates. Discussions within a classroom may enhance your learning abilities. With online learning, you will need to have better writing skills than verbal abilities. If writing is your strength, it may be that online school is right for you.
Most interactions take place in video or regular chat rooms and through emails and discussion boards. This means that you may need extra time to put your thoughts into words. If you have a weakness in this area, virtual classes may not be for you.
Do You Dream About "College Life"?
Besides communicating in different ways, a person's lifestyle is different on a college campus. Some students crave the experience of "college life." Have always dreamed about living in a dorm, hanging out in the student union, and interacting with other students on a daily basis? Then, attending an online college may not be the best decision. There may be ways to interact with other students, but there are much fewer opportunities to meet or to study on a group basis.
How Much Do You Want to Pay for College?
Although many people have the perception that online learning is less expensive than traditional college, this is not always the case. In many instances, online credits are cheaper to complete, but necessary extra materials may put a dent in your bank account. Besides buying books, you may need to purchase new computer software. In reality, attending a traditional public or community college may cost less than pursuing a similar degree online.
Are You in a Rush to Graduate?
Online education usually proceeds on a different schedule than traditional universities. Online, a student may be able to complete a class in a shorter amount of time than in a conventional classroom setting. Also, many online classes take place during periods that are considered "break time" for regular colleges. This means that you may be able to acquire your degree faster.
Importance of Hands-On Experience
At a traditional college, students have the opportunity to gain essential hands-on experience. Usually, this is not the case with online learning. Depending on the field that you are entering, this may be a deterrent. Areas like physical therapy and science fields need personal training. So, taking online classes will fail to provide this valuable learning experience.
Try it and See if You Like it!
Are still wondering if the online school is right for you? You may want to start by taking just one class online to see if it is a good fit. The online school requires dedication, motivation, and discipline. It is not for every student. However, when you need a flexible way to earn a degree, it might be your best option.
The landscape of higher education is evolving. As larger amounts of online classes are being offered, it may be worth the time to research whether or not it is a viable way for you to complete your educational requirements.
---
Related: