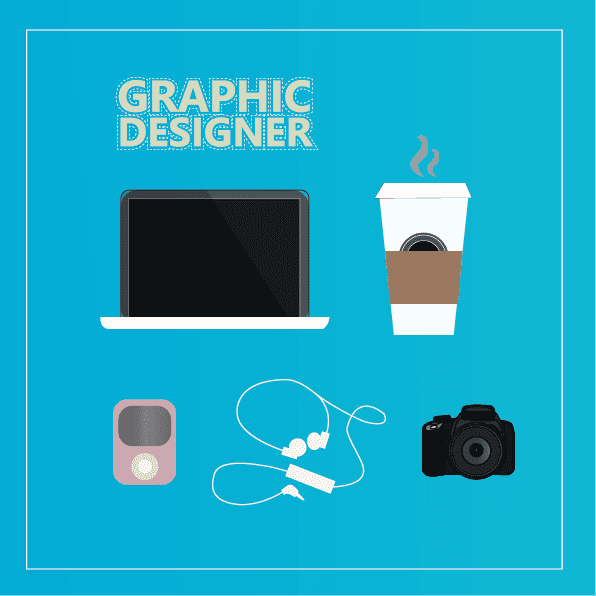 Many Graphic Design jobs are available for graduates with an associate degree in a visual or digital design program. First of all, graduates can become entry-level graphic designers.
Graduates may assist senior graphic designers and utilize their creativity and innovation to bring fresh ideas to the company or firm that hires them. As the graduate proves themselves and their skill level, they may take on more responsibilities and even lead their projects. Secondly, many graduates opt to start their own freelance graphic design businesses.
---
What Do You Learn in Graphic Design School?
Design theory, layout, and color are basic ideas taught throughout your courses. Students also learn to develop designs both by hand and with popular software. Below is a list of just some of the tasks that a graphic artist or designer will handle on their own after they graduate.
Engage with clients.
Create and update social media posts.
Design presentations using PowerPoint.
Use custom CSS to create and design websites and layouts on WordPress and other sites.
Format and embed elements into the company's system.
Design specific artwork for various clients using programs, such as Adobe and Photoshop.
Create advertisements and newspaper designs and layouts.
Design online advertisements as well as print advertisements and wallpaper options for various devices.
Utilize a variety of computer systems along with digital press equipment.
Work with aid web design team on creating HTML coding.
Design and produce promotional brochures and flyers for clients.
Create and design artwork for billboards and other advertisements.
---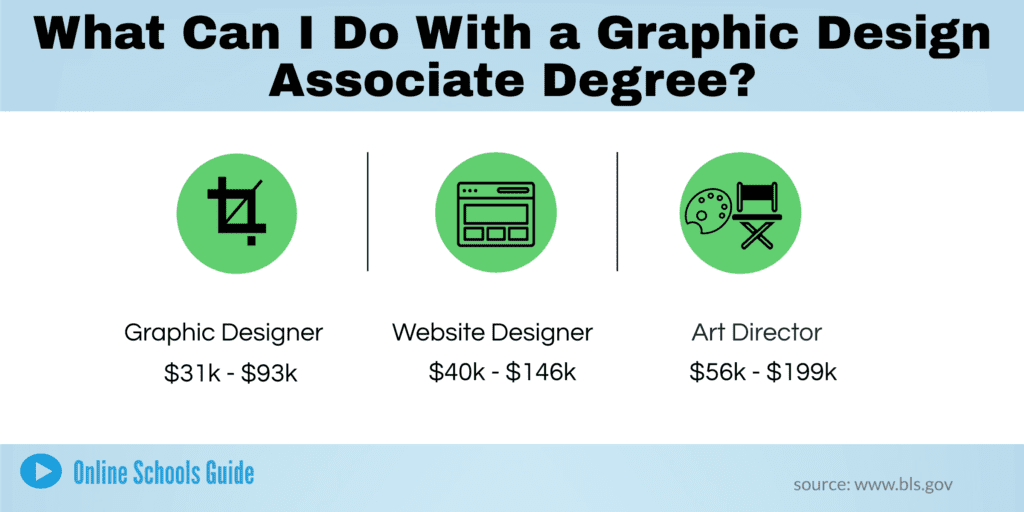 ---
What is the Difference Between Graphic Design and Digital Design?
It is essential to know and understand the difference between an associate's degree in graphic design and digital design. Many people use the two terms interchangeably, which blurs the lines between them, but some differences will come into play during the design process.
---
What is Graphic Design?
Graphic design has been around for a much longer time than digital design since graphic designers initially used their hands to draw and create various designs published in print editions of newspapers, books, brochures, magazines, and other print media.
However, it was not until the late 1990s, when the Internet gained popularity, that graphic artists and designers adapted to the many occurring changes. During this time, web design in web development became essential in graphic art and design. Many visual artists and designers needed to quickly learn how to do new things, such as creating logos and web copy.
---
What is Digital Design?
Digital design includes movement in media such as animation, 3-D modeling, and interactive web pages. Graphic, digital designers are tasked with creating images and other elements on the screen of many devices, including desktop computers, laptop computers, tablets, and smartphones.
---
What are Digital and Graphic Design Similarities?
The similarity between graphic and digital design is that they are both forms of visual communication, usually correlated with an idea, a brand, or an image. In both these situations, the designer's goal is to present information and ideas to a particular audience. And they both use imagery, artwork, and symbols that create meaning for the person viewing them. In addition, visual images and words can evoke emotions from people which can make a brand more popular and recognized more easily.
---
What Jobs Can You Get With an Associate Degree In Graphic or Digital Design?
Is a digital design degree worth it? There are many career options available for graduates with a degree in graphic design, including the positions of visual artist, game designer, web designer, user experience (UX) designer, creative director, production artist, art director, product developer, illustrator, animator, marketing specialist, multimedia designer, or freelance graphic designer.
In addition, the field is growing and wide open for creative and innovative visual artists and designers who have earned an associate degree in this exciting field.
Graphic Designers and Graphic Artists
Graphic designers use computer software or create by hand visual ideas that communicate a specific idea or feeling.
Salary Range: $31,720 to $93,440
Web Developers and Digital Designers
Website and Digital designers develop and create interface layouts, functions, and navigation for the usability of websites.
Salary Range: $40,750 to $146,430
Art Director
Art directors are responsible for the visual style and images in magazines, newspapers, product packaging, and movie and television productions.
Salary Range: $56,530 to $199,250
---
What Industries Employ Individuals With An An Associates Degree In Graphic Design?
As of May 2020, Graphic Designers held about 254,000 jobs. The largest sectors of employment are in the table below.
| Industry | % of employment | Average Pay in Sector |
| --- | --- | --- |
| Self-employed workers | 19% | not reported |
| Specialized design services | 9% | $54,800 |
| Advertising, public relations, and related services | 8% | $55,800 |
| Printing and related support activities | 7% | $41,490 |
| Newspaper, periodical, book publishers | 4% | $45,170 |
BLS median annual wages for Graphic Designers in the top industries.
---
How Much Can You Make With An Associate Degree In Graphic Design?
The median salary for Graphic Artists and Graphic Designers is $53,380 a year, as reported by the BLS in May 2020. This average range is $31,720 to $93,440 and often varies by geographic area.
Digital and Web Designers can expect a salary of around $77,200. In addition, employees can earn higher-paying positions with more experience and a robust portfolio.
---
What Is The Job Outlook With A Degree In Graphic Design?
What is the job outlook for a graphic designer? If you wonder if graphic design is a good career for the future, the answer is yes. According to the Bureau of Labor Statistics (BLS), the overall employment will increase by three percent (3%) from 2020 to 2030.
Job openings will replace workers who retire or change jobs. Graphic designers will have nearly 24,000 job openings expected each year over the next ten years. In addition, Web Developers and Digital Designers will grow thirteen percent (13%) with an average salary of $77,000.
Graphic design is a growing and exciting field to pursue, with plenty of job opportunities available and the potential to branch out as a freelance graphic artist or designer to own a business and garner clients. It is an excellent field for anyone wanting to utilize their creativity in their daily work.
---
Advancing Your Career in Graphic Design
Earning an associate degree is an excellent way to begin a career in this field. However, to qualify for the most in-demand jobs, you need a bachelor's or master's degree. For example, students with a bachelor's degree are qualified for employment as Art Directors or Marketing Managers.
Once you have earned an associate degree, you can enroll in a bachelor's degree in a graphic design program. Many of these degrees allow you to use the credits you have already earned. With this advanced standing, most students take an additional two years to complete a bachelor's degree. Experienced graphic designers may advance to chief designer, art director, or other supervisory positions.
---
Your Career In Graphic Design
When you decide to earn one of the Top Online Associate Degrees in Graphic Design, there are many great options. The most in-demand design jobs are focused on digital design and primarily provide content for anything online. Web Developers, User Experience (UX), User Interface (UI), Motion Designers, and Animators are on the top of the list.
Another area in-demand includes product designers and an offshoot in package design. So, if you are interested in a higher-paying role, consider focusing on digital content.
---
Related: