There are many paralegal jobs in the public and private sector for individuals to work in various administrative and legal roles.
The job of a Paralegal is to provide legal assistance. They often work with lawyers to prepare for trials and hearings and assist with corporate meetings. As a highly trained part of a legal team, a paralegal has extensive law knowledge. So, paralegals can work on various administrative and legal projects.
Individuals can take one of several paths to becoming a paralegal. However, one of the most common routes is to earn an associate degree in paralegal studies from a postsecondary institution.
---
What Do Paralegals Do?
A Paralegal can perform a wide array of different tasks like interviewing clients for the attorney they work for at a law firm. For example, they frequently interview clients to obtain the details of a case. They also conduct research and investigate different parts of a case. They look for any documents and discovery that the attorney needs for a trial. Sometimes they go to court to assist during the trial.
Paralegals that do not work on court cases spend a lot of time conducting research. They also organize documents and prepare contracts and other legal documents.
---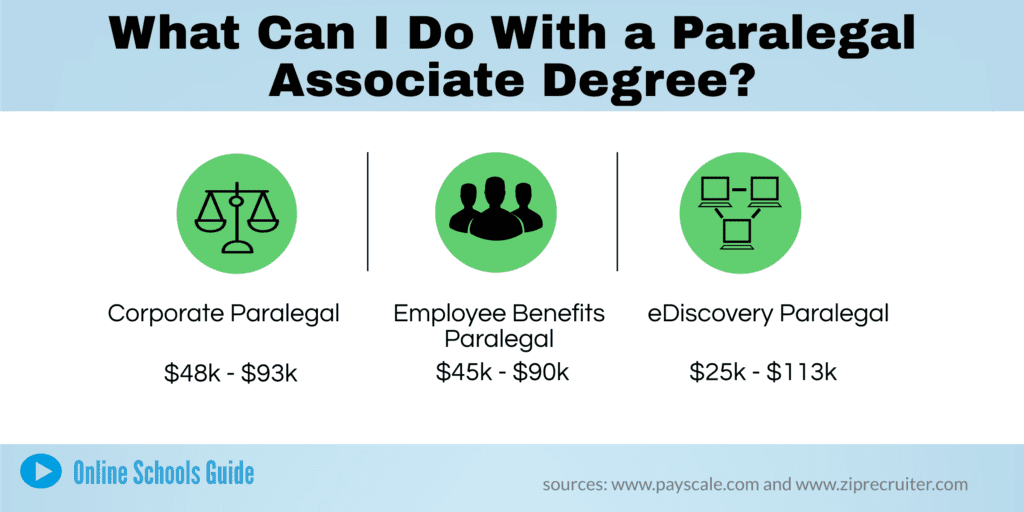 ---
What Jobs Can You as a Paralegal?
Paralegals need an array of very diverse skill sets. Because they rely heavily on computers to manage and organize information, they need to be skilled with basic computer systems. Because of the trend toward paperless, most document and data collection is now conducted electronically. Paralegals catalog and organize most documents on computer databases.
In addition, electronic database management and electronic discovery are two essential skills. Electronic discovery is all the electronic materials related to a case. Some of these materials include emails, messages, metadata, and websites.
Corporate Paralegal
Corporate paralegals work for large companies in their legal departments and sometimes as team members. They assist in anything from paperwork to court proceedings. Routine duties include preparing contracts, updating and organizing files, and giving legal assistance.
Salary Range: $48,000 to $93,000
Employee Benefits Paralegal
Employee benefits paralegals often work in Human Resource departments. They assist attorneys with the legal work related to retirement benefits, health insurance, employee safety, and worker's comp.
Salary Range: $45,000 to $90,000
eDiscovery Paralegal
Electronic Discovery Paralegals collect and process electronically stored information (ESI) relevant to court cases. These positions require a different skillset, and employees must be familiar with file format systems and collecting metadata.
Salary Range: $25,000 to $113,000
Paralegal Manager
A Paralegal Manager is in charge of a team of Paralegals. They often assist human resources in recruiting, hiring, and training. They manage the team's workload daily and schedule and organize daily activities.
Salary Range: $90,000 to $130,000
---
What Industries Employ Paralegals?
As of May 2020, the BLS reports there were about 345,600 Paralegal jobs in the US. The sectors that employ the most significant number are Paralegals are listed in the table below.
| Paralegal Industry Sector | % of employment |
| --- | --- |
| Professional, scientific, and technical services | 74.7% |
| Government (federal, state, local) | 12.0% |
| Finance and insurance | 3.1% |
| Management of companies and enterprises | 2.0% |
| All Other | 8.2% |
BLS sector employment for Paralegals in the top industries.
---
What Is The Job Outlook for a Paralegal?
The employment of Paralegals is growing by about 12 percent annually from 2020 to 2030. Each year over the next decade, there will be about 43,000 new jobs for paralegals. In addition, existing jobs for these workers may need replacement workers as individuals change jobs or retire.
---
How Much Can You Make as a Paralegal With An Associate Degree?
According to the BLS, the annual salary in May 2021 for paralegals was over $56,000. The range of pay was from around $36,000 to $88,000.
Experience is an important indicator of a Paralegal's salary. An early career Paralegal with less than five years of experience can expect to earn less than an experienced Paralegal with more experience. Another important factor that determines salary is skills. For example, eDiscovery Paralegals often earn more than their counterparts in more traditional roles. The specialized skills to work as an eDiscovery Paralegal are in demand and fewer Paralegals have them.
Other factors that affect salary are the location and the industry where you are employed. Additionally, the national median annual wages for these workers in the top industries that employ them are listed below.
| Paralegal top industries | Salary |
| --- | --- |
| Federal government | $69,680 |
| Finance and insurance | $64,740 |
| Local government | $58,300 |
| State government | $49,350 |
| General Legal services | $48,270 |
BLS 2021 Paralegal annual salary for top industries.
---
What Skills Do Paralegals Need?
Essential skills Paralegals need include excellent communication and interpersonal skills. In addition, paralegals need to have excellent organizational and research skills. They should be familiar comfortable using computers for research and correspondence. And they must be able to document and communicate their research and related information to their supervisor.
They should also be comfortable with interpersonal relationships as they regularly work with clients and other legal professionals. Using computers for research and organizing and maintaining important documents is a daily activity. Adapting to changing strategies or deadlines is another critical ability.
---
Advancing Your Career
After earning an associate degree, you can enroll in a bachelor's degree. Many schools grant credit for associate degrees and apply it toward a bachelor's degree. With advanced standing credit, most students can earn a bachelor's degree in just two additional years. Additionally, experience in the sector can qualify individuals for a paralegal manager role.
---
Why a Career as a Paralegal?
A career as a Paralegal can be rewarding. Paralegals earn a high salary, and this in-demand field has excellent job security. So, if you are interested in this versatile sector, check out one of the Top 10 Online Paralegal Associate Degrees.
---
Related: