An associate in business administration is a two-year degree that gives students a broad business education. Graduates either enter the workforce or transfer to a four-year university.
When you want to attend a two-year program for your associate's degree in business administration, you might be worried if the degree is worth it.
---
What Jobs Can I Get With An Associates Degree in Business Administration?
However, there are many entry-level jobs you can get with an associate degree in business administration. We compiled a list of jobs that hire graduates with an associate degree in business. Then, we listed the most in-demand jobs first.
---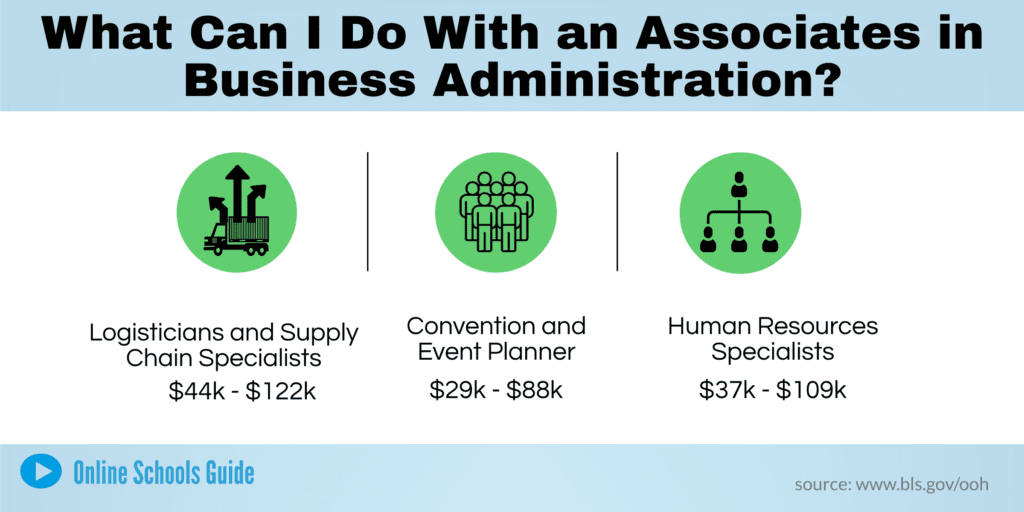 ---
Job Titles
Students who attend associate degree programs qualify for many roles. With an AA degree in Business Administration graduates have the business skills and training to work in many AA degree jobs. a business associate degree is a stepping stone to a bachelor's degree and then to find a master of business administration jobs.
---
1. Logisticians
Job Growth: 30%
Pay Range: $63,170 to $208,000
Logisticians oversee supply chains. They are responsible for activities that include purchasing, transportation, inventory, and also warehousing.
---
2. Operations Research Associate
Job Growth: 25%
Pay Range: $48,050 to $144,330
Operations research associates work under Operations research analysts. They advise managers on the best way to manage the supply chain, set prices, and also assist in developing production schedules.
---
3. Financial Examiner Associate
Job Growth: 18%
Pay Range: $43,890 to $159,120
Financial examiners typically work in risk assessment to evaluate financial institutions, ensure they offer safe loans, and also have enough cash. Financial examiners also work in consumer compliance to monitor lending activity and ensure that borrowers are treated fairly.
---
4. Convention Planners
Job Growth: 18%
Pay Range: $29,240 to $88,360
Convention planners organize professional events, including conferences and business conventions. They coordinate every detail of the planning, execution, and also cleanup of these events.
---
5. Food Service Managers
Job Growth: 15%
Pay Range: $33,880 to $94,770
Food Service Managers take care of the daily operations of establishments that prepare and serve food. For example, they may work in restaurants or facilities like hospitals. They are usually responsible for service, staffing, business financial planning, and also budgeting.
---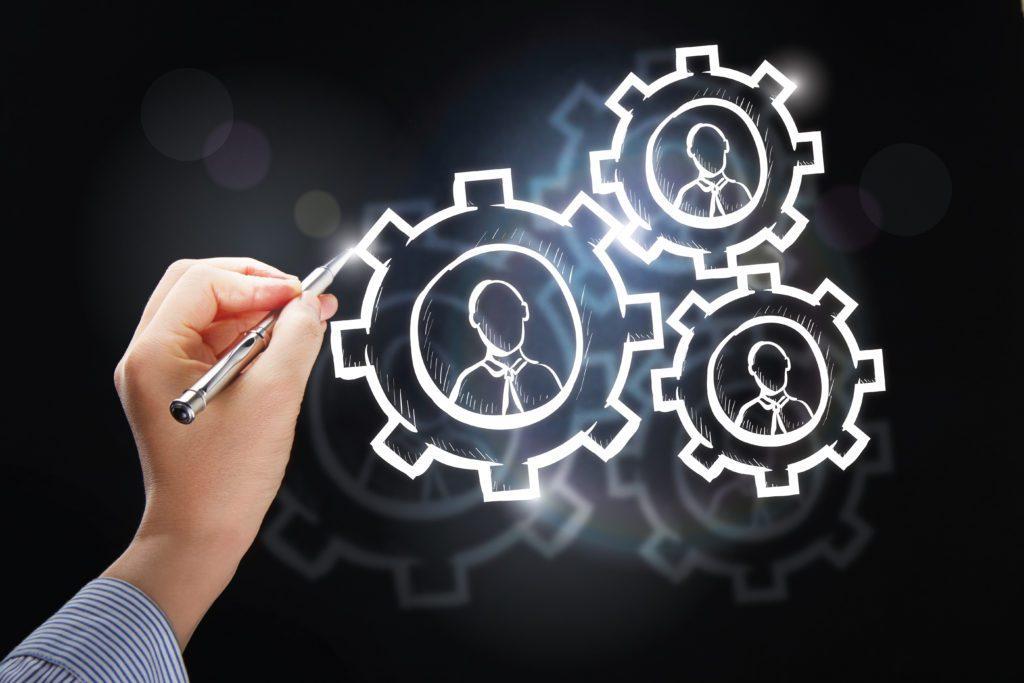 6. Management Analyst
Job Growth: 14%
Pay Range: $50,990 to $156,840
Management Analysts find and then recommend ways to improve an organization's efficiency. Also called management consultants, they advise managers on making organizations more profitable through reduced costs and increased revenues.
---
7. Human Resources Specialists
Job Growth: 10%
Pay Range: $37,710 to $109,350
Human resources specialists recruit and hire job applicants for new roles and open positions. They can also be responsible for employee relations, compensation, and benefits.
---
8. Business Operations Specialists
Job Growth: 9%
Pay Average: $84,290
Business Operations Specialists find ways to increase the daily performance of a business or organization. They are also called Project Management Specialists.
---
9. Sales Managers
Job Growth: 7%
Pay Range: $63,170 to $208,000
Sales Managers direct the sales team of an organization. They train sales representatives and set sales goals for individuals and the organization.
---
10. Cost Estimator
Job Growth: 1%
Pay Range: $40,380 to $114,360
Cost estimators analyze the cost and time needed to complete a project. The project may be manufacturing a product, providing a service, or also a construction project. In addition, cost estimators often have an industry in which they specialize.
---
Can You Get a Bachelor's Degree After an Associate In Business Administration?
If you earned an associate degree in business administration, you could move on to complete a bachelor's degree in business. Most programs allow the student to transfer most of the credit from the associate's degree and al=pply them toward a bachelor's program.
A typical four-year degree consists of 120 credits, and a two-year degree is usually 60 credits. So, if you can use the credits from the associates, you are halfway to completing a bachelor's degree. Students who know they want to transfer to a four-year school eventually should consult their advisor when they first enroll in a program. The advisor can ensure you complete the correct university transfer-friendly classes.
---
What Is a Stackable Business Administration Program?
Some schools offer stackable programs. The idea is you earn a certificate, a diploma, then an associate degree, and then a bachelor's degree. So, for example, if you have a AA in Business Administration, then you are halfway to earning a bachelor's business degree. These programs can save you time and money, and if you find one, they are definitely worth checking out!
---
Related: