There are many Sociology career options for individuals with a master's degree in both public and private organizations. Classes in a Sociology program teach students how to evaluate and solve complex problems. Many jobs and careers are available for graduates with a master's in Sociology degree.
Sociology offers a broad education in analytical problem solving, reasoning, and effective communication. Equipped with these valuable skills, students are well-rounded and have a comprehensive liberal arts college education.
---
---
In addition, a sociology degree has some advantages over a technical or specific professional education. The world is changing at such a rapid rate that today's technical or professional skills may not be useful in five years. So, a master's degree in sociology is a valuable springboard for dozens of career paths.
---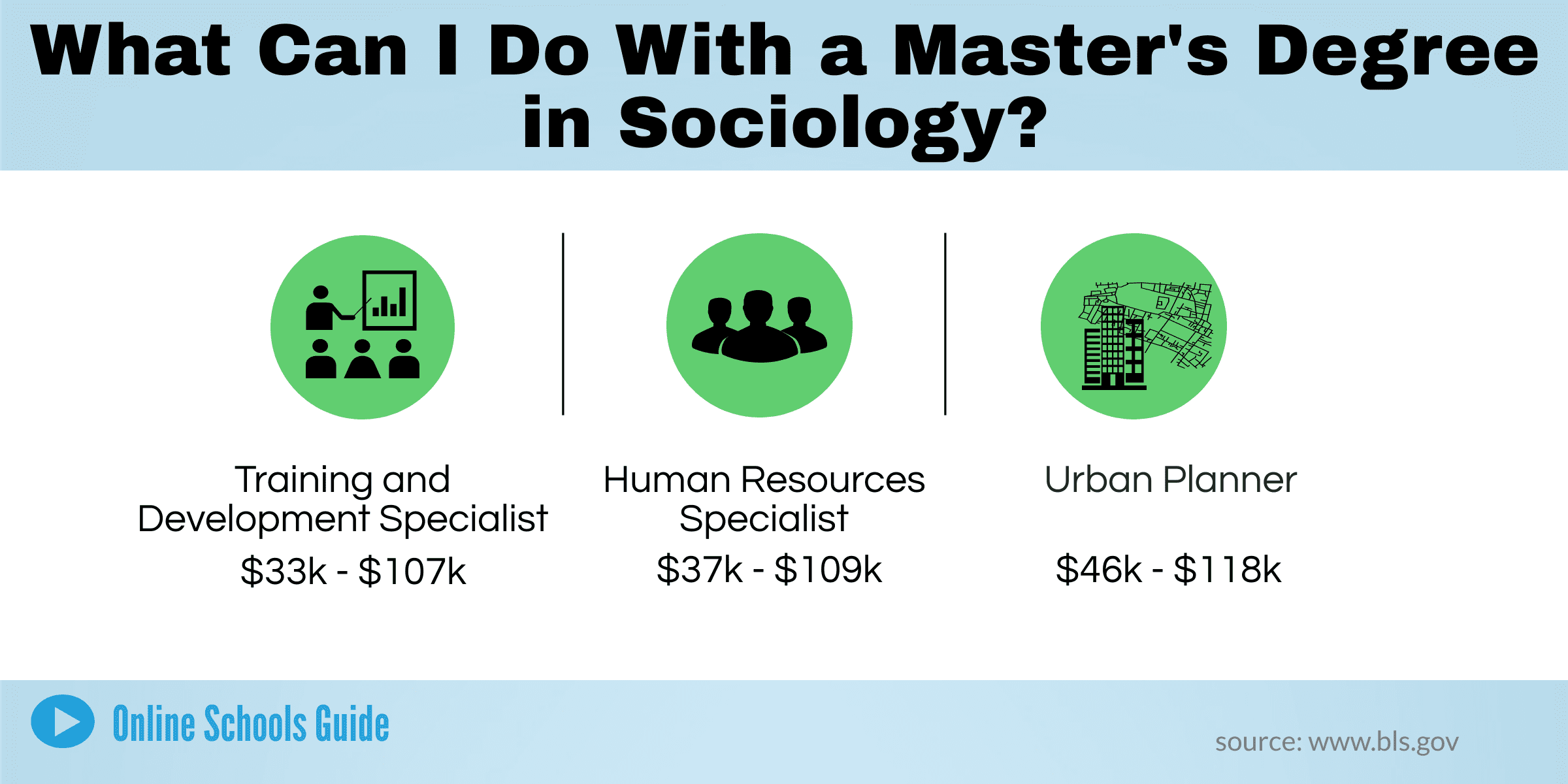 ---
What Jobs Can You Get With A Master's In Sociology Degree?
From community health workers, market research analysts, and public relations specialists to diversity managers and school counselors, there are many options for graduates with a master's degree in sociology.
Below is a detailed list of positions sociology graduates can consider.
Training and Development Specialist
A training and development specialist can earn around $62,000 a year. They design and lead programs that help employees increase their knowledge and skills throughout various industries.
This position will involve conducting interviews with employees or managers and administering surveys to assess training needs. The person in this position also facilitates multiple training sessions covering leadership, ethics, time management, and conflict resolution.
Salary Range: $33.900 to $107,060
Human Resources Specialist
A human resource professional or coordinator manages any issues that come up in the workforce of an organization or company. They recruit new employees while working with management and employees on benefits, training, compensation, and workplace safety.
In addition, they plan training sessions and facilitate team-building activities while maintaining employment records in processing paperwork. The average salary for this position is around $63,000 per year. Those who move to a managerial role in HR earn an average of $121,000.
Salary Range: $37,710 to $109,350
Urban Planner
Urban planners can make up to around $88,000 per year. They work for cities, states, and communities to develop short-term and long-term solutions to improve infrastructure and renovate areas needed in the community.
In addition, they conduct research and analysis and work with public officials and community members to strengthen designated areas, including neighborhoods, streets, parks, and buildings.
Salary Range: $46,830 to $118,280
Sociologist
Sociologists can make around $86,000 per year. They conduct research and study social problems. Most work for educational and government institutions. Using quantitative and qualitative research methods, they examine societal behavior. Much of the work of Sociologists helps to create and influence social policy, social systems, and laws.
Salary Range: $52,640 to $143,020
---
What Is the Job Outlook and Growth With A Master's Degree In Sociology?
From the BLS employment information, these jobs are expected to grow at a faster than average or average rate. In addition, we have listed the expected annual job openings.
| Job | Growth | Openings |
| --- | --- | --- |
| Training and Development Specialists | 11% | 35,200 |
| Human Resources Specialist | 10% | 73,400 |
| Urban Planner | 7% | 3,700 |
| Sociologist | 5% | 300 |
BLS employment growth for top careers with a Master's in Sociology.
---
How Much Can You Make With A Master's Degree In Sociology?
The median annual salary for a Sociologist is $86,110, as reported in May 2020 by the BLS. The Salary Range for this average is $52,640 to $143,020. Almost all salaries vary by geographic area, experience, and education.
Other careers you can pursue with a master's degree in Sociology include Human Resources, Training and Development, and Teaching. With any of these jobs, you can expect a salary from around $50,000 to $100,000.
---
Is A Master's Degree In Sociology Worth It?
When it comes to the field of sociology, there are many courses and specialties you can choose from while earning your master's degree. The areas of concentration you choose will help determine what part of the field you will enter in the workforce. The field of sociology is growing quickly in several places. Methods, research techniques, and theories you study in Sociology will help improve the lives of individuals, families, and even entire communities.
In addition to a career as a Sociologist, this degree is a frequent precursor to Law School, an MBA, a PhD in Counseling, or an advanced career in a government job like the FBI. Whatever path you choose, a Sociology degree makes it possible to easily choose another path later in your career. It is one of the most flexible degrees available.
---
Advancing Your Career With A Master's In Sociology
We have outlined some of the best jobs you can get when you have a master's degree in sociology. When you decide to earn an Online Master's in Sociology we have a list of degrees for you!
---
Related: