Sociology jobs you can get with a bachelor's degree include entry-level positions in education, government, and also the private sector. This popular college major which provides a large job market to choose from when it is time to kick-start your career.
So, what can you do with a BA in Sociology? This is a social science field used to try to make sense of how our society works and how societies around the globe work. Those who study sociology become equipped with the tools to better understand social issues and then create and execute solutions for many of the problems facing our society today.
---
---
Another reason sociology degrees are growing in popularity is that many of the programs can be completed online. Pursuing an online Sociology degree will give you the freedom to continue with other obligations you may have to your family or current career. Let's take a look at some of the exciting things you can do with a sociology degree.
---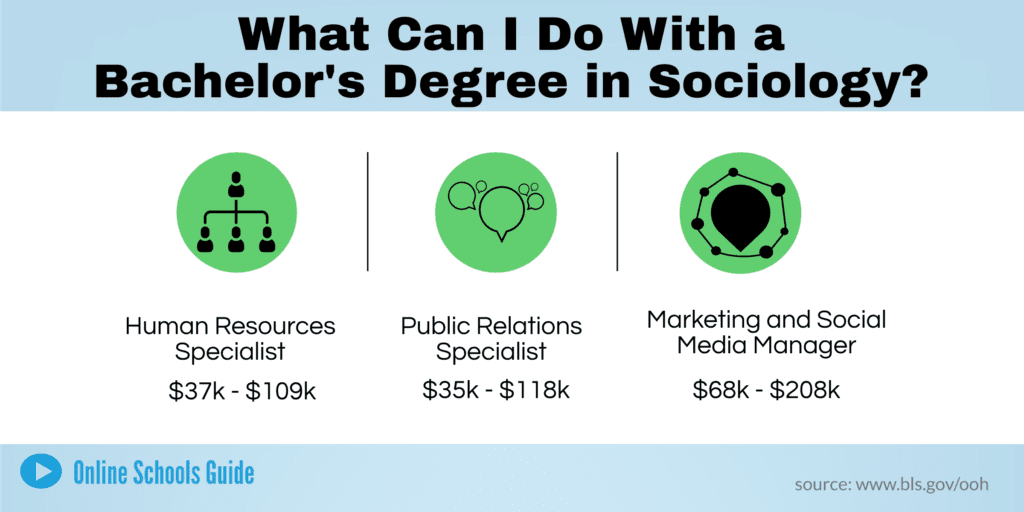 ---
Why Do People Study Sociology?
People study sociology because they are wanting to take a deeper look into human society. This can include studying societies of both the past and the present. Understanding how societies develop and organize themselves is crucial to understanding how to solve the problems which arise within those societies.
The topics you will cover while studying sociology can be far-reaching. The great thing about sociology is that there are many different directions in which your interests could lead you both in your studies as well as in your career. In general, however, you will be learning how events and causes within the social realm create consequences for individuals and for society in general. This understanding can help you to create better solutions for our society in the future. So, what can you do with a bachelors in Sociology?
What Jobs Can I Get With a Bachelor's Degree in Sociology?
Because Sociology is a broad study, those graduating with a degree in Sociology will have a large range of careers to choose from. This makes a degree in Sociology very attractive and practical. A major that is very narrow in its scope and application will not provide students with enough options. This makes Sociology an excellent opportunity for the student who likes to have options and choices.
Many Sociology programs will allow students to follow specific tracks of interest to narrow down the field of sociology. Following one of these specialized tracts will help zoom in on your particular interests, and better prepare you for a career in that specific field. Having a specialization under your belt can also make you more employable within that field. If your program of study offers specialized tracts within a sociology degree program, you should consider this.
What can you do with a BA in Sociology? Because a sociology degree is so far-reaching, it is best to look at career options within smaller fields within sociology. So let's take a look at a few.
---
Sociology Jobs in Social Service and Non-Profit Agencies
Social service and non-profit agencies offer many opportunities to generate change and improve the standard of living. Professionals in these organizations help make our communities better and safer for generations to come. Community and Youth Work is a popular track for sociology majors to pursue once they have obtained a sociology degree. Within community and youth work, there is a focus on young people's welfare and social development, especially within vulnerable communities. These positions will often focus on social and physical care, education, community activity, combatting poverty, and healthcare.
For those who would like to use their online degree in sociology in a more one-on-one environment, there is the option of counseling and therapy. Sociology degrees are an excellent foundation for careers in the counseling profession. Sociology and counseling are blended well in environments when a counselor is needed to improve the social conditions within a community or organization. Jobs include counseling services within schools, workplaces, hospitals, and other locations.
Social Service Jobs for a Sociology Major:
Case Manager
Social Service Specialist
Victim Advocate
Fundraiser
Agency Liaison
Counselor
---
Sociology Jobs in Education
Many sociologists chose to work in education. Graduates can find employment at public schools, private schools, colleges, and universities. While some choose to teach, others serve as placement officers, student service administrators, admissions counselors, and alumni relations.
Education Jobs for a Sociology Major:
Guidance Counselor
Admissions Counselor
Alumni Relations
High School Social Studies Teacher
Social Science Research Assistant
School Administrator
---
Sociology Jobs in Government Organizations
One of the most popular ways an online degree in sociology is used is in public service. Many sociology majors pursue jobs in local, state, and federal government agencies. For example, some enter the judicial system as juvenile court workers, parole officers, criminal investigators, or police officers. At the state and local levels, employment can be found managing social service programs and community programs.
Government Jobs for a Sociology Major:
Case Manager
Patrol Officer or Military
Crime Scene Technician
Policy Analyst
State Court Clerk
Social Service Manager
---
Sociology Jobs in Private Sector Organizations
Graduates with a Sociology major can gather, analyze, and communicate information and work in various businesses and industries. The skills of a sociology major can be utilized in a variety of private-sector jobs. Some examples are in communications and advertising, real estate, consulting, financial services, and social media.
Sociologists observe and analyze trends and patterns in the private sector. They also produce social statistics for market research, opinion polling, program evaluation, sales, track labor relations data, coordinating employee assistance programs, and much more.

Private Sector Jobs for a Sociology Major:
Research Analyst
Community Relations Specialist
Public Affairs Manager
Social Media Manager
Labor Specialist
Marketing Analyst
---
How Much Can I Make With a Sociology Degree?
Because Sociology is such a far-reaching area of study, which can take you down many different career pathways, it is hard to pinpoint a salary in general.
So instead, you will need to narrow your focus down to which sector you would be interested in using your online sociology degree. Then you will research income potentials within that sector.
Is a Degree In Sociology Worth It?
An online degree in Sociology can help you achieve your goal of job security. However, the most important thing is that this field of study can help you make a difference in your community.
---
Related: