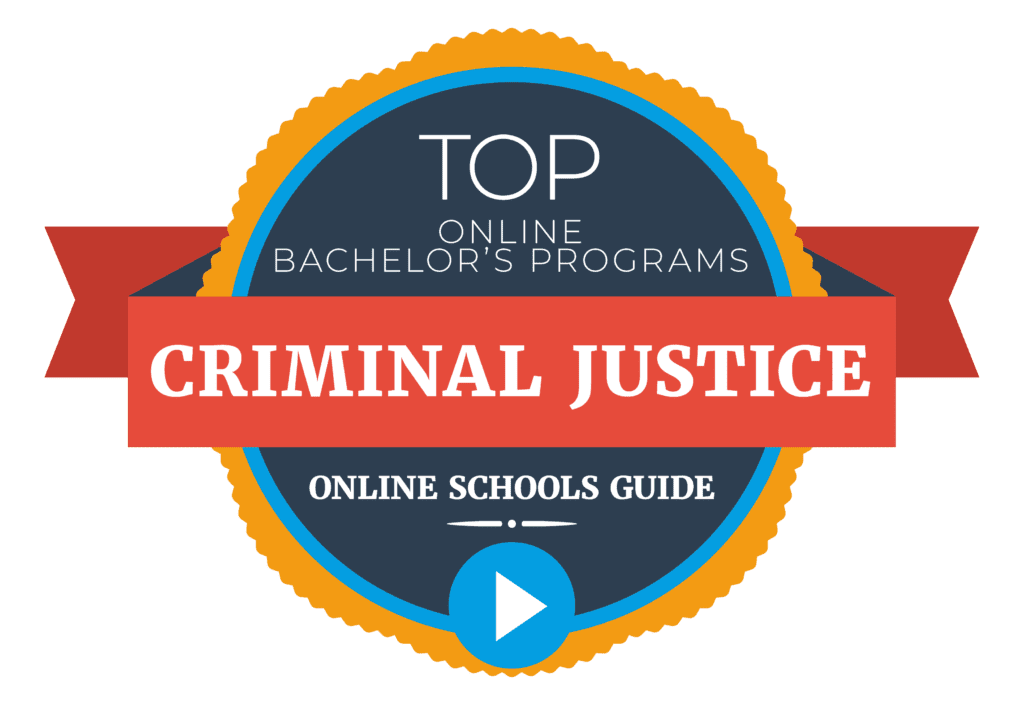 The top online Criminal Justice bachelor's programs offer students a flexible option to complete a degree and advance their careers. A Criminal Justice bachelor's degree is a great way to enter this career.
The criminal justice system affects society in many ways. Each citizen is part of the criminal justice system at some time. For example, individuals can be the focus when a police officer pulls them over for speeding on the highway. Or they participate in the system as a juror in a trial. Even when a person votes in an election, they contribute to the system by electing lawmakers.
Likewise, the laws voted and passed into action through the legal and justice system affect citizens, police officers, crime scene investigators, and attorneys. Having a career in criminal justice comes with many challenges. However, it can also provide many benefits and is highly rewarding for many. So, if you are interested in justice, this may be an excellent degree for you.
---
How We Ranked the Top Online Criminal Justice Bachelors Degree Programs
The editors at Online Schools Guide found schools offering online bachelor's degrees in Criminal Justice. Then, based on cost and reputation, we ranked the programs. Below are the top online Criminal Justice bachelor's degree programs to get you started on your journey!
---
1. Bellevue University

The BS in Criminal Justice at Bellevue University offers students an accelerated degree program with top-notch faculty. This program prepares working adults with real-world experiences and solutions in criminal justice. The university offers both a Traditional and Cohort learning format for students to receive their online criminal justice degree. Course areas covered in the program include Contemporary Social Issues, Criminal Behavior, Legal Principles, Strategic Management, and Policy Development. Graduates have the skills to enter a professional career in criminal justice or advance their career in the field.
Furthermore, graduates can effectively assess criminal justice operations to address crime and social problems. In addition, they learn to analyze trends, address the needs of the criminal justice system, and examine theoretical constructs of criminal behavior to provide strategies that impact crime and social problems. The BS degree program has 127 credits, with forty required core credits. Military discounts are available.
Program Duration: 127 credits, two-year program.
---
2. Indiana Tech

The BS in Criminal Justice at Indiana Tech provides students with faculty experts working in the field and can bring an authentic look at how criminal justice is affecting the world as we see it now. By doing so, the program provides real-life experiences and firsthand knowledge of criminal justice jobs. The online criminal justice bachelor's degree offers two main concentrations within the program. Students can choose the BSCJ in Administration or the BSCJ in Rehabilitation Services.
Classes are five-week courses and are available online or on campus. Weekends and evening courses are also available. Many students in the BSCJ program also minor in psychology, which prepares them for career paths in correctional institutions, rehabilitative services, or profiling. In addition, the BS in Criminal Justice program courses includes criminal investigation, police work, corrections, juvenile justice, police operations, crime scene analysis, criminal profiling, and law.
Program Duration: total-121 credits, 51 credits of core criminal justice classes. four-year plan.
---
3. Arizona State University

Arizona State University's BS in Criminology and Justice prepares students for an exciting career in criminal justice. This program offers students ways to explore the impact of crime and provides approaches that best reduce problems that evolve at the local, state, and federal levels. Students in the criminology and justice program learn about policies and practices, criminal justice system components, law enforcement involvement, corrections, and courtroom settings. Knowledge needed for the program includes analytical and communications skills and the ability to research information about criminal actions. The faculty members are from the top schools in the nation, bringing tremendous insight and expert knowledge of the criminal justice industry.
This online criminal justice degree is also an accelerated program option for students who want to advance in the program and get a fast start in job opportunities within the field. To be eligible for the accelerated BS in CJ degree, students must hold a 3.4 GPA or higher. In addition, to apply, students must first complete ninety credits of the undergraduate program. Furthermore, the accelerated program in criminal justice at ASU will allow the student to finish both the BS and MA in criminal justice within five years.
Program Duration: Total classes: 40, Weeks per class: 7.5, Total credit hours: 120
---
4. Washington State University-Global Campus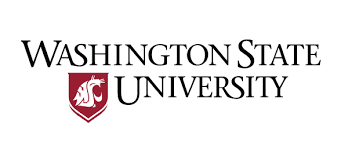 The BA in Criminal Justice at Washington State University Global Campus offers a fully online, comprehensive program. The program prepares students with strong leadership skills for local, state, and federal employment positions in the criminal justice field. Core principles of the online criminal justice bachelor's degree program cover problem-driven research courses and provide real-world experience to apply to career positions after graduation. Students also learn critical thinking skills and practical knowledge to advance in criminal justice.
WSU's criminal justice program is the second oldest continuous criminal justice program. It started in 1943. Graduates find career opportunities in crime analysis, community corrections, victim advocacy, child protective services, border security, cyber-crime prevention, security/loss prevention, and court administration. WSU's BS in Criminal Justice is 120-semester credits, including 40 upper-level courses. Some transfer credits are accepted.
Program Duration: 120 credits, transfer credits accepted.
---
5. University of Oklahoma

An online BS in Criminal Justice degree is available at the University of Oklahoma. This program gives students a solid understanding of law enforcement issues and also has several concentrations. Students can choose to focus on Homeland Security, Restorative Justice, Administrative Leadership, or Investigations and Intelligence Analysis.
Oklahoma's online criminal justice degree is 120 credits, with forty credits of core coursework included. Some transfer credits are available to eligible students. Courses in the program will cover deviance and social control, statistics in criminal justice, ethics, drugs and society, comparative justice systems, and an introduction to forensic science. In addition, students will learn strong leadership and conflict-resolution skills. All undergraduates in the program must keep a 2.0 GPA or higher to complete the program.
Program Duration: 120 credits, 40 core credits
---
6. Florida State University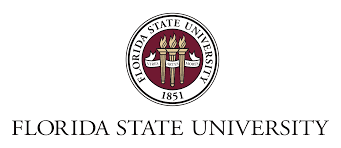 Florida State University offers undergraduate students an online BS in Criminology. This degree builds on problem-solving and critical thinking skills and gives students an excellent foundation of knowledge in pursuing a career in law. Working professionals in the criminal justice field find this program convenient. It provides flexibility in coursework, and the tuition cost is affordable.
Online students earn the same diploma as on-campus students. In addition, several start dates are available to online BS in criminal justice program students. Some of the requirements to be eligible for the program are that students must keep a GPA of 2.0 or higher throughout the program. They must also complete 36 semester hours in criminology and the oral competency requirement.
Program Duration: varies, 36-52 credits, depending on concentration. 18-24 months.
---
7. Penn State World Campus

Penn State World Campus has an online criminal justice bachelor's degree program. This degree is for criminology students with a two-year degree in criminology or a related area. The program's online format allows students to work and study independently and still find time for family obligations. Graduates can advance their careers in protective services, law and corrections, crime-related prevention and support, security management, court administration, and social services roles.
Courses in the BS in criminal justice program include criminology, law, policing, and corrections in America, ethics in criminal justice, security and police administration, incarceration alternatives, and juvenile justice system aspects. Areas of social services cover sociology and psychology as well. The total program is 120 credits; students can complete it in less than two years (with an associate degree in criminology). Penn State World Campus is nationally recognized as an accredited college in the school of justice field.
Program Duration: 120 Credits, two to three years.
---
8. Florida International University

The BS in Criminal Justice at Florida International University offers an online option that provides teaching experts in shaping the future of the criminal justice field. This state-of-the-art curriculum instructs students in areas that impact their professional career paths and assists them in obtaining promotions within the criminal justice industry. Courses include Introduction to Criminal Justice, Criminological Theory, Research Methods and Analysis, Professional Development, Justice and the Constitution, and a senior capstone in Criminal Justice.
Undergraduate students must keep a 2.0 GPA to maintain in the online Criminal Justice degree program. Also, an internship is recommended and encouraged for all students to take in the program. The internship provides practical instruction and knowledge for professional experiences to last a lifetime. Florida International University's student body is diverse and delivers higher education to over 50,000 students. Additionally, FIU is one of the largest universities in the nation, with more than 200,000 alumni from thirty-three countries.
Program Duration: 120 credits, 18 core credits.
---
9. Colorado State University Global

Colorado State University (CSU) Global provides a fully online bachelor's of science (BS) in criminal justice to undergraduates interested in the criminal justice career path. The BCJ is 120 credits, and students can complete the program in as little as two years. Courses of interest may include Applying Leadership Principles, Introduction to Criminal Justice, Law Enforcement and American Policing, Criminology, Research Methods for the Criminal Justice Professional, and Laws of Evidence. Practical knowledge of law enforcement and the legal system is also discussed.
Undergraduates learn to make informed decisions, run an effective criminal justice system, and develop a complex understanding of the ethical issues and controversial policies facing criminal justice organizations and personnel. In addition, students get a complete overview of the theories and practices of law enforcement. CSU Global accepts up to ninety credits from other accredited colleges and universities to help students obtain a BCJ degree more efficiently.
Program Duration: 120 credits, 15-degree specialization credits. up to 90 transfer credits are accepted.
---
10. University of Central Florida

The University of Central Florida offers undergraduate students either a BA or BS in Criminal Justice. Both degrees are available online with no admission requirements. Additionally, the course program is a policy-based curriculum and draws from the social sciences of the industry. The curriculum also touches on sociology, psychology, and political science related to criminal justice. Furthermore, this CJ program prepares students for work or for graduate studies within the criminal justice and legal system field.
Students must hold a "C" average in all classes and keep a 2.0 GPA to stay in the program. UCF accepts some transfer credits from other accredited colleges and universities. Graduates of the BCJ program at UCF will find employment within areas of Probation centers, Parole facilities, Corrections, Profiling, and Law enforcement. In addition, the bachelor's in criminal justice at UCF helps graduates find employment. Students find jobs in both private and public sectors and at the local, state, and federal levels of government.
Program Duration: 120 credits, two years.
---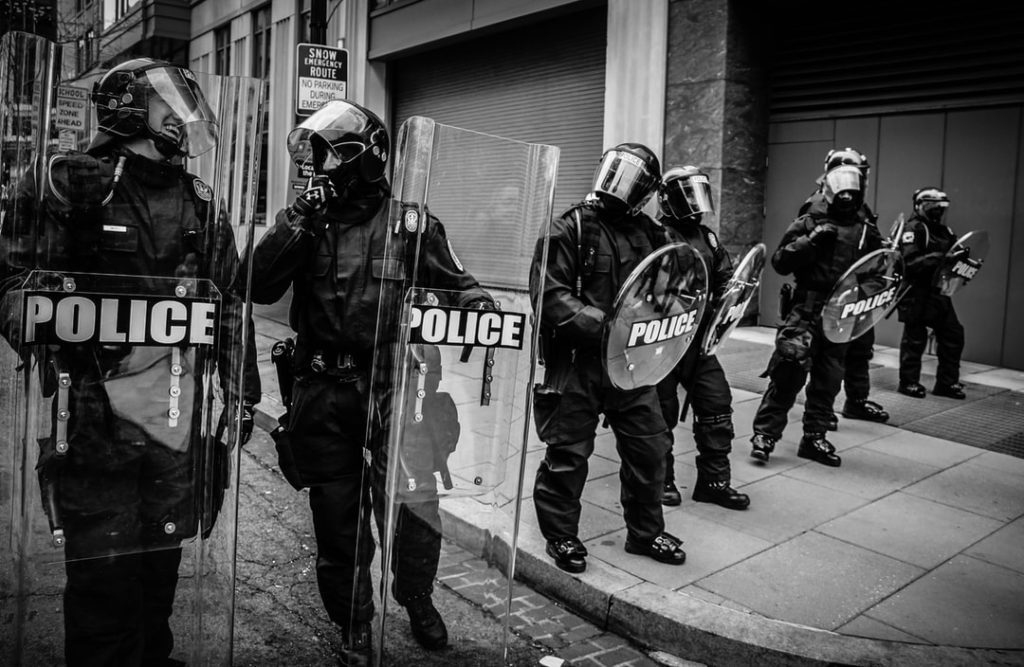 ---
What Jobs Can You get with a Bachelor's in Criminal Justice?
What kind of jobs can you get with a bachelor's in criminal justice? A wide range of career opportunities exists for individuals with a criminal justice bachelor's degree. For instance, some may find employment with law enforcement and become either police officers or homicide detectives for their local or county office. Entry-level criminal justice jobs are abundant in law enforcement.
Additionally, there are many jobs in criminal justice without being a cop. For example, becoming a crime scene investigator or forensic analyst may appeal to students interested in criminal forensics. Some of the best criminal justice jobs are in forensics. However, these workers are highly-trained, and many have master's degrees.
On the other hand, some desire to assist individuals through social services. Some alternative careers for criminal justice majors are child welfare caseworkers, social services case managers, or victim advocates. Entry-level jobs with a bachelor's in criminal justice are available in most local governments.
---
Criminal Justice Careers and Salaries
The list of job positions in the criminal justice field is endless. More opportunities and higher salaries may be available by choosing from the top schools offering the BS in criminal justice program. Additionally, some career paths in the criminal justice industry will require additional work experience and a master's degree in criminal justice to increase job performance and pay.
---
Related: