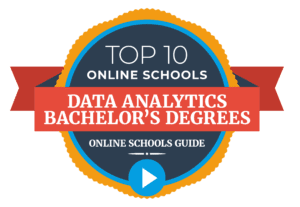 The top online schools for Data Analytics bachelor's degree programs offer flexible options to earn a degree in data analytics. Earning your bachelor's degree in Data Analytics will open many doors to a very lucrative career path.
Getting a BS in Data Analytics will offer opportunities with some of the largest Big Data corporations. Furthermore, it provides the skills and knowledge graduates need to advance their careers or enter a graduate program.
---
How We Ranked the Top Online Data Analytics Bachelor's Degrees
The editors at Online Schools Guide found schools offering online bachelor in Data Analytics or related degrees. Then, based on cost, reputation, and future salary, we ranked the programs.
Students with this degree find work as data scientists, data developers, IT technicians, and also data engineers. However, to make your decision a little easier, here are the top ten online schools for Data Analytics Bachelor's degrees. They will provide all students with a close look at the best online analytics degree programs throughout the nation.
---
1. CSU Global

CSU Global's BS in Management Information Systems and Business Analytics prepares working professionals to become organizational leaders in business.
This online program is 120 credits. It is divided into 31 general education credits and 36 core credits with 15 specialization credits that are optional. Students that have transfer credits from a community college or other 2-year institution, can transfer up to 90 credits. Students learn system design, data management, and also business analytics. These classes teach concepts of business and decision-making processes through management, strategy, marketing, accounting, and also financial skills.
There are several specializations offered in the BS in MIS and business analytics program. Students can choose Organizational Leadership, Project Management, Human Resources & Organizational Development, Marketing, Healthcare Management, or Foundations of Accounting. CSU Global provides SAS certificates to complement the BS in MIS degree program.
The online University offers both undergraduate and graduate degrees. Students can choose from a variety of studies including analytics. The school also provides low student-to-faculty ratios and affordable tuition rates to all undergraduate and graduate students.
Program Highlights: 120 credits, many specializations, low student/faculty ratio, transfer credits accepted, fully online, offers SAS Joint certificates.
---
2. Golden Gate University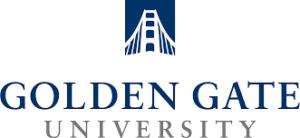 Golden Gate University's BSB in Data Analytics offers students an online and also a hybrid option. This program is for students with skills in mathematics, critical thinking, communication, and also technology.
The BSB in Data Analytics program is 123 credit hours. Sixty units are for general education and eighteen units of required courses. Some transfer credits are accepted if eligible. Additionally, the BSB program offers several concentrations for undergraduates. Students can choose from accounting, data analytics, finance, human resource management, information technology, international business, marketing, operations and supply chain management, psychology, and also public administration.
Many of the GGU instructors teaching the BS programs are taught professionals already working in the business field. The program provides small student-to-faculty ratios and ninety-five percent of students are over 25 years old.
Program Highlights: 123 credits, many concentrations, low class ratios, Adult-focused, flexible scheduling, scholarships offered.
---
3. Lipscomb University

Lipscomb University's BS or BPS in Data Analytics are two online options from the school. These comprehensive programs teach students to interpret, analyze, and also process conclusions on data-driven results.
Applicants should have critical thinking and computer technology skills, and the ability to manipulate large data to determine strategies. Both data analytics programs teach problem-solving, communication, organization, and also decision-making. Therefore, graduates have the know-how to become leaders in the business industry.
Both programs require 126 credits and there are two formats. The traditional option is an 8-week term while the flexPACE program is only four months of courses. Lipscomb University's BS and BPS programs have some of the most affordable tuition rates in the nation. However, financial aid is available to eligible students. Additionally, the programs at Lipscomb are also military-friendly.
Program Highlights: 126 credit hours, 2 curriculum formats, fully online, financial aid and scholarship opportunities, military-friendly, affordable tuition.
---
4. Rutgers University Camden

Rutgers University at Camden offers an online Bachelor of Arts in Business Administration Degree with a concentration in Data Analytics. The fully online program is a total of 120 credit hours of data science, technology, and programming coursework.
The degree also provides the opportunity of two types of internship tracks. The BBA degree offers a world-class faculty, which combines their professional experiences into each classroom setting. The program has accreditation from the Association to Advance Collegiate Schools of Business (AACSB). Additionally, it offers three industry-focused concentrations for undergraduates planning to or currently working in the business field.
Students may choose from corporate finance, digital marketing, or strategic human resource management as well as the data analytics specialization. The online Bachelor of Arts in Business Administration (BABA) program is both part-time and full-time. So, undergraduates can finish their degrees at their own pace. Rutgers University is one of the best institutions in New Jersey and is also among the best online analytics degree programs.
Program Highlights: 120 credit hours, four total concentrations, top accreditation, Globally-acclaimed institution, 3 start dates per year.
---
5. Thomas Edison State University

The Bachelor of Science degree in Data Science and Analytics at Thomas Edison State University is fully online. It offers a curriculum that is in high demand in today's IT world. This 120-credit-hour program is for working professionals in both business and technological fields.
Courses include data mining, machine learning, visualization techniques, predictive modeling, and also statistics. This interdisciplinary program incorporates computer science, statistics, and mathematical modeling. It provides applications in areas of business, government, life sciences, and social sciences.
The BS in DSA offers some coursework through Statistics.com. This course format from Statistics.com provides courses in four-week sessions. Classes are led by exceptional experts already working in the field and the courses are interactive and asynchronous in nature. The courses from Statistics.com are accredited by the American Council on Education's (ACE) College Credit Recommendation Service (CREDIT®).
Program Highlights: 120 credits, highly accredited, transfer credits accepted, courses only at Statistics.com are ineligible for financial aid.
---
6. Mid-American Christian University

Mid-American Christian University's BS in Data Analytics offers an online, interdisciplinary degree, combining business, mathematics, information technology, data management, programming, and data analysis through the use of data mining, simulation, and optimization.
MACU is the first institution that provides this type of degree in the state of Oklahoma. The BS in Data Analytics program is a 122-credit hour program, offering coursework from award-winning business and mathematics programs offered at MACU, including computer science courses recently added. The BSDA program will help students to develop critical thinking, problem-solving, and communication skills, all while supporting students in becoming ethical leaders in the data analytics industries of today.
This program is entirely online. However, students do have the option to pursue some courses on campus. Graduates of the BS in Data Analytics program at MACU are career-ready. They find positions such as a Data Analyst, Data Engineer, Digital Marketing Manager, Operation Analyst, and also Data Scientist. The program is an accelerated degree, so students complete the courses in five weeks sessions.
Program Highlights: 122 credits, accelerated, convenient, affordable tuition, career-ready program.
---
7. Colorado Tech University

Colorado Tech University's BSBA in Data Analytics Is an online, 180-credit program, with 28 credit hours in the data analytics concentration. The program focuses on helping undergraduate students in developing the knowledge to categorize data and see how data analysis works, in regard to predicting future risks or opportunities as it applies to organizational decisions.
Unlike business analytics, the program is not intended as a computer science or information technology program. Students will learn to become familiar with data analytics and record data findings. Managerial skills will be incorporated throughout the program in an organizational setting.
The BSBA program in Data Analytics at Colorado Tech ranks among the best online bachelor's programs, six years in a row, according to the US News and World Report. The Bachelor's degree is also accredited by the Accreditation Council for Business Schools and Programs (ACBSP) and the Higher Learning Commission.
Program Highlights: 180 credit hours, top accreditations, highly ranked, focused program.
---
8. Maryville University

The BS in Data Science program at Maryville University offers an online degree with coursework in general education, major courses in data science, and general electives; totaling 128 credits. There is an additional concentration in Actuarial Science available for undergraduates.
The curriculum of the BS in Data Science degree offers flexible start dates and friendly advisors that will help prepare students with the in-depth comprehension and skills to manipulate, organize, and interpret data while exploring statistical theories, methods, and technologies of today. The data science courses cover data analysis, programming, and predictive modeling, including computer science, statistics, and also economics.
The BSDA program offers hands-on projects with practical applications to complete the program. Maryville University is regionally accredited by the Higher Learning Commission and is partnered with some of the top businesses nationwide in providing career-focused degrees for working professionals and future leaders.
Program Highlights: 128 credit program, concentration optional, regionally-accredited degree, tuition, and financial aid help.
---
9. Western Governors University

Western Governors University's BS in Data Management and Data Analytics is offered to students with a good sense of Mathematics, IT networks, programming, and data management. The program will help students learn the practices in systems and services, develop skills in networking and security, comprehend scripting and programming, and become a leader in data management and Information technology.
The BS-DM/DA program is approximately 126 competency Units (CU ) and takes about twenty-four months to complete. WGU does accept up to 27 transfer credits, if applicable. The tuition cost is also very affordable; the school charges the student per term instead of per course, so you can finish faster, while paying less. Some core subjects will include Critical thinking and logic, Introduction to Programming in Python, Web Development Foundations, and also IT Applications. The program will also touch on applications in data wrangling, analysis, and visualization.
WGU provides IT certifications and is highly ranked among the top Universities and one of the best online analytics degree programs in the nation. Western Governors University is accredited by the Northwest Commission on Colleges and Universities (NWCCU) and 86% of graduates are working full-time.
---
10. University of North Dakota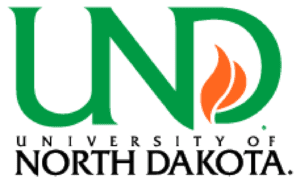 University of North Dakota's BS in Data Science program is a 120-credit degree, that is available fully online and on campus. Students in the program will learn the foundations of computer science, data science, and business analytics from top professionals currently working in the Data Analytics field.
The BSDS program takes approximately four to five years to complete and will provide the graduate with the skills and knowledge needed to advance in major industries such as healthcare, government, and education. The curriculum offers a strong foundation of programming, cloud computing, cybersecurity, and analytical tools needed to interpret, analyze, and transform data to receive insightful results.
The BS in Data Science program offers four specializations. Students can choose System and Programming Security, Software Engineering, Information Technology, Game Development, and Computer Animation. As a student at UND, there are opportunities to participate in research projects, seminars, and community organizations. As part of the program, UND provides a laser-focused team that works to solve industrial data challenges.
Program Highlights: 120 credits, 4-5 year program, fully online, affordable, community participation.
---
Data Analytics vs Business Analytics
Data analytics involves technical aspects of development, whereas Business Analytics focuses on the business implications of data. Analytics is similar to finding data solutions, identifying patterns, and being aware of data-based programs.
---
What are the Most In-Demand Careers in Data Science?
The career path of Data Science professionals brings many benefits and advantages. Data analytics individuals work in a variety of job industries. These jobs range from analytics for entertainment to working for the government.
Some of the largest tech companies where data science or data analysts work are Sciencesoft, Oracle, Amazon, Microsoft, Google, and also Sigma Data Systems. And that is just the top six. These companies provide a lucrative salary, especially if the applicant has a Bachelor's degree in Data Analytics.
---
Where Can You Work With a Data Analytics Bachelor's Degree?
According to the Bureau of Labor Statistics, the top states for employment are California, Illinois, Texas, New York, and also Ohio. However, some of the states with the highest salaries are Maryland, New York, and North Carolina.
---
Data Analytics Job Outlook and Salary
There are many positions for graduates of the BS in Data Analytics degree. Below are some top job choices for graduates in Data analytics.
Data Scientist
The mean annual wage reported by the BLS is $108,660. The top industries for this position are aerospace manufacturing, securities, financial investments, and also accounting or tax preparation.
Data Architect
The median pay is $120,520 per year from BLS. Data Architects can also be known as computer network architects. Many jobs are located through information technology (IT) networks.
Business Intelligence (BI) Developer
According to payscale.com, the average annual salary is around $82,856. The top companies hiring BI developers are Amazon, Medline Industries, Anthem, and also Coyote Logistics.
Statistician
The BLS reports the average pay for Statisticians is $96,280 per year. According to the US News and World Report, statisticians are #1 for best Business jobs.
Machine Learning Engineer
According to Glassdoor, the average base pay for Machine Learning Engineers (MLE) is $124,380 per year. Salary may differ by location and employer. However, the role is in demand for many top industries and corporations and the job comes with many perks.
---
Related: