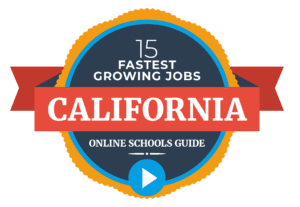 The fastest-growing jobs in California offer excellent careers in healthcare, business, finance, and sustainable energy. Buckle up and put on your sunglasses. We are driving across the golden state. The poppy painted coastlines may be what draws you in, besides the career opportunities, or all of the good-looking people.
The fastest-growing jobs in California point to a variety of industries. It probably won't surprise you that in this hotbed of tech and innovation, many signs point to software and data for lucrative and sustainable employment. Every cultural epicenter requires front-of-the-house faces and a networking extraordinaire, also hipsters that can wow you with a bacon-filled cocktail or an espresso drink with the sunset etched in macadamia milk.
This list was a bittersweet one to create as a California native. The jobs listed have affected drastic changes that the state has undergone, for better and for worse. Nonetheless, work is there and the waves will always be perfect for surfing.
---
1. Software Engineers
Starting in 2013 Software Engineering became one of the highest-paying jobs in California. These STEM wizards make a lot of money, and they are needed in almost every industry. In-demand sectors like healthcare, space programming, education, and even manufacturing require these specialized skills.
Top 10 Online Bachelor's in Software Engineering
Software engineers create operating systems and cloud applications for businesses. They incubate ideas and bring programming to life. High-level software engineers generally have master's degrees, although you can start an entry-level position with a bachelor's. 
---
2. Web Developers
Surprise, surprise – Web Developers are one of the fastest-growing careers in this Pacific coastal state. Silicon valley brings thousands of Tech jobs to CA, and the call for web developers is great. Think about all the dot coms and technical corporations that are based in California and the amount of this position needed to make such companies run.
Top 10 Online Associates in Graphic Design
Today, some necessary skills for this job are not only coding based but may include using video and audio, as well as text, to create comprehensive web-based experiences.
---
3. Construction Workers
Construction is happening everywhere, but California is a special case. There is so much need for rebuilding given the fact that fires have impacted so much of the state. Not to mention, the local infrastructure is constantly being retrofitted in preparation for earthquakes.
Top 10 Online Associate Degrees in Construction Management
The condo boom is not lost in California either. There are new construction apartments and condos, pools on the roof and all. These are cropping up all over the cities and suburbs alike to accommodate the influx of techies. The construction industry is huge, and we're not just talking builders here, but think masons, installers of insulation, HVAC, and on-and-on.
---
4. Cartographer
Cartographers are those that interpret geography for the purposes of creating or updating maps. Interpretation is a keyword because so much of their job is making sure maps are legible to the general public and easy to follow. Maps are also used for a variety of purposes, including to support education and urban or regional planning.
Top 10 Online GIS Associate Degrees
Some of their daily tasks can include geographic data collection and creating digital representations of a variety of data points. Most often, cartographers have degrees in fields related to Geography, surveying, or urban planning. A fluency in mapping technologies is critical to this profession.
---
5. Nurse Practitioners
Who knew that nurse practitioners make upwards of $88,000? This job requires long hours and a knack for on-the-go decision-making. You must also love working with the public because there can be some difficult patients out there. California is a hub for medical research and state-of-the-art hospitals, so you can imagine how many nurse practitioners are needed.
Top 10 Online Master's in Nursing
Often times they do the same work that doctors do, but only need a master's degree to get properly credentialed. They are even responsible for diagnosing patients, writing prescriptions, and also collecting critical data.
---
6. Data Engineer
Computer programming skills are a critical backbone of this profession. Data Engineers have a background in STEM but don't necessarily need more than a bachelor's degree to be successful.
Top 10 Online Bachelor's in Software Engineering
Data is the first second and last name of this job, as those who do it learn how to aesthetically interpret such points in a million and one ways, making it easy for a variety of people to understand. Most industries require some form of data engineering these days, especially all of the tech companies coming out of California's Silicone Valley.
---
7. Food Service Industry Jobs
Hipsters, techies, businesswomen, and students alike all need to eat. Many of California's cultures and industries bring a real flair to food and drink. There are so many jobs in the food industry from chefs to hostesses and those that tend the bar. It seems like no matter what state the economy is in fancy cocktails, lattes, and burritos don't sit on the shelf if you know what I mean.
What Can I Do With Brewing Science Certificate or Degree?
In San Francisco, some bartenders have been known to make up to $100,000 per year slinging craft beer and mixers. The good news is not much education is required for these positions, however, a good personality and the ability to handle the public are mandatory.
---
8. Installer of Solar Panels
One of the unique jobs in California is that of solar panel installers. The golden state is not only referring to the history of gold but also how much sun most of the state gets. This makes it a perfect fit for environmentalists who want to capitalize on solar energy. California can be considered ahead of its time as far as environmental issues are concerned.
Top 10 Online Schools For Solar Energy Technicians
San Francisco was the first city in the United States to offer compost pick-up at the curbside. They are also known for being forward-thinking as far as environmentally conscious building goes. This is all to say that the solar industry is booming in the state, and there are many ways to connect. Many times a good entry into this profession is an apprenticeship and a bachelor's degree in something related to environmental sciences.
---
9. Financial Advisors
There is a lot of wealth in California, from Hollywood to tech, and everything in between. Money management is a whole industry that requires a lot of skill and knowledge. An understanding of taxes and estate planning is paramount in this profession.
Best Online Accounting Bachelor's Programs
Financial Advisors generally need a bachelor's degree in finance or economics and often have a master's in a similar field, and/ or a certificate. More and more there are specific courses for this field, making it easier to work with a senior advisor in an entry-level position, and then climb the ladder.
---
10. IT Project Managers
IT Project Managers are a dime a dozen in California. There are so many industries, many of which require experts in this field. IT Project Managers are like the wedding planners of technology. They are the experts at not only executing projects but also ensuring that they run on a certain timeline while managing all aspects of the project.
Top 10 Online IT Bachelor's Degrees
Strong communication and leadership skills are big requirements for this job. Oftentimes, they are overseeing a large team of individuals with a variety of needs. Depending on the company or project, this position can make close to $100,000.
---
11. Fitness Experts
Think fitness fads and fitness gurus. How about yoga, CrossFit, running club leaders, pilates, cardio barre, Zumba, and even personal training. These days many condo complexes even have their own workout coaches. Google, Facebook, and many dot coms stress healthy lifestyles.
They give incentives to employees who use part of their workday to move their bodies with some kind of fitness trainer. There are many ways to be a fitness expert, and California is the perfect place to dive deep. Incorporating healthy eating, mindfulness and personal growth exercises are great ways to expand any practice of this kind.
---
12. Biomedical Engineers
Biomedical Engineers are kind of like a healthcare version of a data engineer. In this field, professionals bring together the elements of biological sciences and medicine to innovate software, exclusive devices, and computer systems expressly for the healthcare industry.
Science and engineering Degrees
Again, California is a command post for the medical industry and its research, so the demand for this position never really plateaus. This is one of those jobs that students often start planning for in high school. This means they glean a foundation in Chemistry, Calculus, and Algebra, making it easy to enter high-level STEM coursework immediately in their undergraduate careers.
---
13. Salespeople
When the economy is booming, sales are too. All of the shopping districts and malls, Tesla dealerships, and even medical equipment manufacturing companies need an abundance of salespeople. Salespeople can have backgrounds in economics, communications, marketing, or just good old-fashioned social skills.
This is a profession that will never die, and with experience is easy to transfer to another sector. There are definitely different levels in sales, as working at Macy's and selling specialized equipment have some commonalities, but require a different knowledge base.
---
14. Application Architect
Application Architects are another version of software developers. They are the ones that literally analyze the needs of the public and create targeted software. They have to do a lot of trial and error, market research, and testing. Often times they are the ones that suggest software upgrades to the companies for which they work.
They do a lot of communication with users and other specialists in the tech industry for future reference and to ensure product usability and quality. This profession has the possibility to make over $100,000. It also does not require much more than a bachelor's degree and a background in high-level computer programming.
---
15. Wind Turbine Technician
As far as California occupational projections go the demand for wind turbine technicians is only going to increase. The eco-industries in California are big in general and many parts of the state are employing wind turbines to convert the energy from the wind into electricity.
This position can be unpleasant and at times hazardous, as it requires being on high ladders and working under some rigorous conditions. It is, however, a rewarding job to play a role in reducing fossil fuels.
---
Careers and Jobs in California
In the golden state, some job opportunities can be found without a degree, but the odds are in your favor if you go as far as you can in academia and code for the future.
One thing that makes this state stand out is the fact that you can find every ecosystem within its borders, along with lots of micro-cultures and climates. The job market in Southern California tends to be a little different from its Northern section, and the inland areas have their own career gems.
I​f you can stand the fires and mudslides, California is the place to be for lucrative employment. Here you can play a role in impacting the cultural landscape with your top-notch skills. Good luck to you.
---
Related: