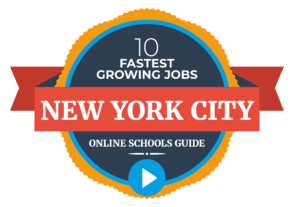 The fastest-growing jobs in New York City have a growth high percentage and a projection of thousands of added jobs in the next decade.
The big apple is known for being one of the most trendsetting international cities on the planet. Imagine how many people it takes to create a city that never sleeps. This is a fast-moving world, so it's no surprise that the epicenter of commerce, culture and technology would be growing jobs at lightning speed.
There are many lists out there that highlight the most in-demand degrees or the highest-paying jobs in New York, but this list is a little different. Certainly some of the jobs we will discuss are extremely lucrative, but our focus here is on the Fastest-Growing Jobs in New York City. Some industries like computer science and technology have a growth percentage of up to 180% and will add thousands of jobs by the year 2030.
So, while these might not be the most popular jobs in New York City, you can be sure that they are not going anywhere anytime soon. There is a lot to be said for job security in these times of robots and technological innovation. The list we have come up with offers a wide range of occupations that are on the up-and-coming list. There is something for almost everyone.
---
1. Operations Analyst
One of the reasons Operations Analysts are so in demand, is that problem solvers are becoming more and more necessary in every industry, tech and otherwise. This position is kind of like a wedding planner of data. They are the ones that organize information from a variety of sources including customer feedback and sales histories.
They then implement programs that make the companies and organizations run more smoothly. The salary for these roles is often within $70,000s. Most people who are qualified to do this work have a Master's degree, however, you may be able to get away with a Bachelor's for an entry-level position. As far as NYC jobs go, this field is booming everywhere.
---
2. Web Developer
No one is surprised to see web developers as number two on this list. You are not a legit professional, company, organization, institution, or even restaurant without a website. These days even some bodegas in New York City allow you to order your lunch from their website for you to pick up.
Think about how many websites developers make every day in New York City. So, a lot of web developers work to keep up with this volume. You really only need an associate degree in the field and extensive knowledge of both graphic design and computer programming.
---
3. Statistician
Statisticians have a lot in common with data analysts including cross-over on some of the daily tasks they conduct. Statisticians play a bigger role in creating experiments, surveys, and polls with the intention of creating more effective systems at the company they are serving. They are not only constantly collecting data, but there are also determining the methods of collection.
They can find jobs in governmental agencies, healthcare facilities, corporations, and even some small businesses. Most statisticians have a minimum of a Master's degree in a STEM-related field. The field has a growth potential of over %150 percent in New York City.
---
4. Gaming Cashier
Believe it or not, this is one of the fastest-growing careers in The Big Apple. One of the pluses of this growing position is that you do not have to have anything more than a high school diploma to thrive.
Day-to-day hands-on learning provides much of the training for these jobs. It is important, however, that you have a knack for math and communications. Working with the public is certainly not for everyone, and with a position like this, you are doing it all day long.
You will be on the floor offering customers assistance and in the back updating financial records and transactions. The estimated growth in this field is over %175.
---
5. Personal Care Assistant
There are always old people getting older and injured people needing daily professional care. When you have a city as big as New York, imagine how many opportunities there are for healthcare workers in general, as well as personal care assistants to gain employment.
This job is multifaceted and includes daily medical responsibilities and also emotional care. For example, these professionals ensure that people with dementia or other mental and physical health issues stay connected with their communities. Often daily tasks include taking patients out into the world. The growth of this job is nearly 150%.
---
6. Occupational Therapy Assistant
So many of us sit all day long. It's hard not to feel the repetitive physical ramifications of our jobs. Occupational therapists and their assistants work with patients to heal from and manage the physical stressors specific to their careers and even just living. This position often goes into patients' workplaces to teach them better ways to use their bodies when they are on the clock, including the use of stretches, exercises, and often even nutrition ideas to support their progress.
Young people with developmental delays and disabilities also use occupational therapy. This job has proven to improve the lives of so many patients and is on the rise as a result of its impact.
---
7. Software Developer
Software developers are the masterminds behind apps and computer programs. This position often includes conducting research around products to ensure the program is living up to its intended use. There is a fair amount of problem-solving, creative thinking, and collaboration associated with this position.
Most people who work in this field need nothing more than a STEM-based Bachelor's degree and a lot of experience navigating computer operating systems. This is a fast-growing field and is utilized by so many industries. This is especially true now that so much of the workforce uses computer technology.
Many developers create custom applications or tweak what is already available to be more relevant to their specific needs.
---
8. Writer
This may sound like a bit of a vague field, but think about how many top ten lists, best of articles, and how-to write-ups you've seen grace your social media feeds today. Content writing, in particular, is an ever-growing field that comes out of cutting-edge cities like New York.
The more readily information is able to be accessed, the more necessary it is to have writers on hand to create it. Not to mention the amount of TV, film, and theater writers needed to sustain the entertainment industry. There are also the novelists and editorialists required to keep us titillated. Yes, the field of words is growing, especially in entertainment epicenters.
---
9. Bartender
Everyone seems to be a foodie these days. It's hard to not walk down any given street in New York City and not see a million Zagat-rated bars and high-end restaurants. How about the hole in the walls that so many of us look to find old-school seedy romantic charm?
Needless to say, a lot of shakers, pourers, and mixologists are necessary for the fabric of such establishments. No matter the economic circumstance, these bars, and restaurants keep popping up, and projections state they will continue to do so at a rapid rate.
Bartending school is more and more necessary as this career path has become more professionalized and skilled, though that is not the only means to an end. Depending on the scale of the establishment, big city bartenders can take home up to 100K per year.
---
10. Interpreter and Translator
The differences between these positions are that an interpreter translates in real-time orally from one language to another, and a translator translates written documents, letters, and paperwork. Both are necessary, especially in such an international city like New York.
Professionals in this growing field can find work in a myriad of settings. There is a need for translators and interpreters in hospitals, the field of social work, and even academic institutions. You will see both interpreters and translators at every courthouse and legal institution, and even public and private schools and community meetings. Most positions in this field pay well. Although, often the work is hourly instead of a salary.
---
Finding one of the Fastest-Growing Jobs in New York City
There are countless decently paying jobs in NYC, but many are fad jobs that will come and go. When planning a career path, it is important to pick a field that will not be obsolete in five years. This comprehensive list will give you an idea of where we are going as a culture, as far as the institutions that will stick around.
Furthermore, there are a lot of tech and support roles for large corporations, many of which are data-driven. There is never a lack of positions related to living in our bodies better, like occupational therapists and their assistants, or personal care aides. In summary, when diving into a skill set, look for sustainability, in many cases, even over the projected income of an occupation.
---
Related: